Two Parsi caterers from Mumbai who showed us how to make a fresh start during the pandemic
The story of Jamshedi Navroze 2021 and the Parsi food that we had from Tanaz Godiwala's A Parsi Affair and Kurush Dalal and Rhea Mitra Dalal's Katy's kitchen and the story of how the folks behind these traditional businesses reinvented themselves when the Covid pandemic brought life as we knew it to a standstill.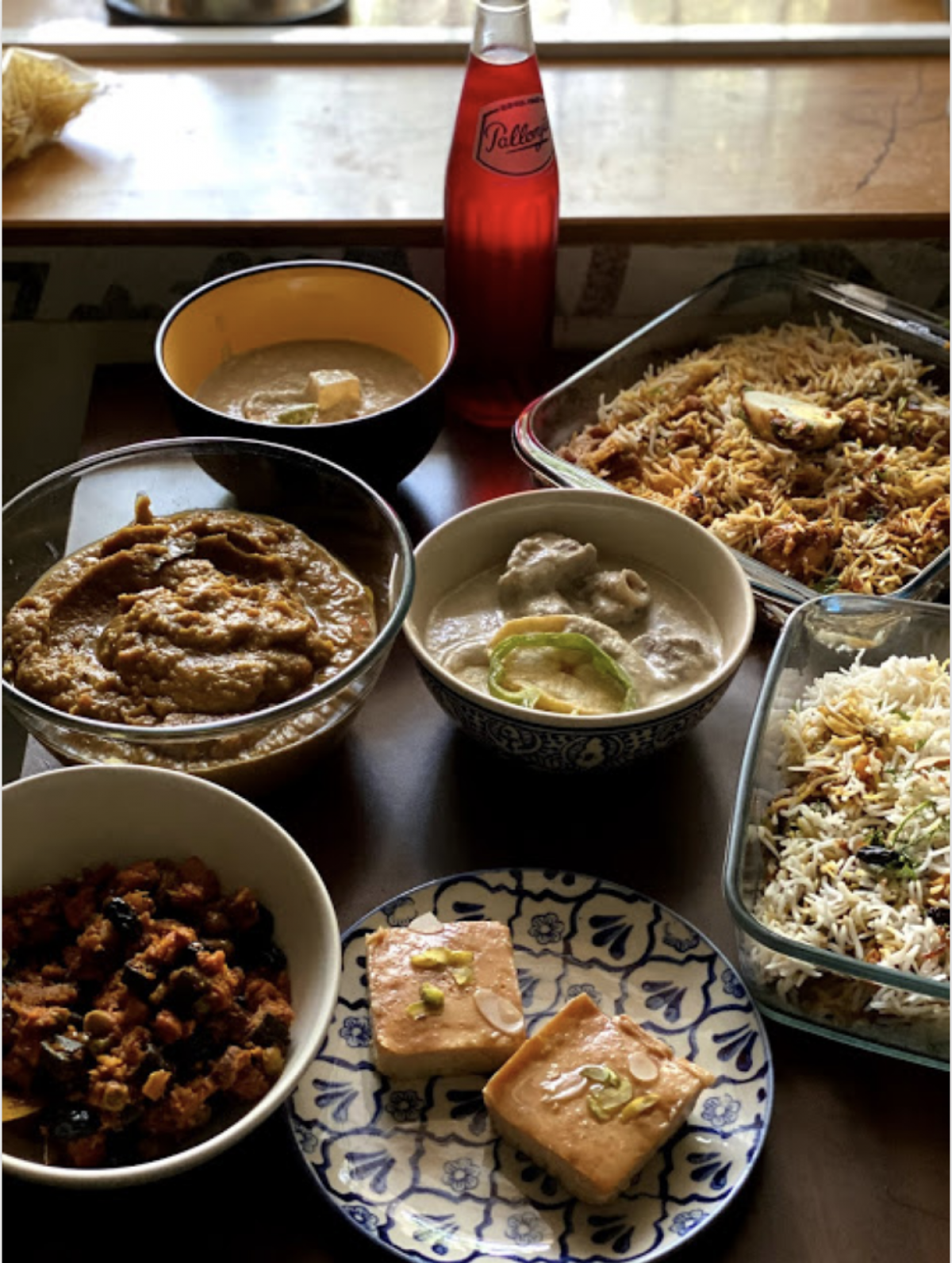 Photo by: Kalyan Karmakar
Jamshedi Navroz 2021 bhonu from Katy's Kitchen. As he did last year,
Kurush ensured that we had raspberry drinks to raise a toast with this Navroze too
This post is dedicated to the loving memory of the brothers Zend and Parvez Irani of Mumbai's Yazdani Bakery, whom we unfortunately lost in the year that went by.
The weekend that went by was about the festival of Navroze at home and I guess I should tell you about how we celebrated it, what we ate and the lessons that one learnt in the process.
Navroze/ navroz/ nowruj is the celebration of the spring equinox and heralds the change from winter to spring. A fresh start. In India it is celebrated by communities such as the Shia Muslims, the Iranis (whose new year it is) and the Parsis who refer to it as Jamshedi Navroz (different from Navroze in August which is the Parsi new year).
I am Bengali. Married to a Parsi. Navroze is an occasion that is celebrated at home. Through food.
This year Navroze was spread over two days. Started at 3 in the afternoon on Saturday for the Parsis, according to my mom in law, and spread on to 3 in the afternoon on Sunday.
Hmm, not to worry. We had two glorious Navroze meals across both days Each came with its own special message, but then what is a story without a moral as Aesop would say.
With the Godiwala Jamshedi Navroz 2021 bhonu
I picked up my mom in law at Dadar on Saturday and got her home for Navroze. "Our dinner is coming from Tanaz Godiwala," I casually told her. I could sense my worth go up in her eyes in a way it never had in the past 19 years, when she heard this.
"Parsis first ask who is the caterer, when they get a wedding invite, and clear their diaries if they heard it was Godiwala," said my mom in law, Pervin, with a twinkle in her eyes.
Tanaz Godiwala, in case you did not know, is considered to be the 'queen of Parsi catering.' She is the second generation owner of the fifty year old Godiwala Catering. The establishment was started by her parents in 1969, the year in which Tanaz was born. She has been running it for the past three decades, taking on the reins of the business at a young age after her father, Rohinton Godiwala, passed on. Her mother, Freni, held her hand through those rocky days and since then Tanaz has ensured that the business soared higher and higher. Incidentally, my parent in laws' wedding, as well as K's navjote, was catered by the Godiwalas and my mom in law fondly recollects the warmth with which Freny and Rohinton had guided her on both occasions.
I have had the privilege of eating at weddings and navjotes catered by Tanaz a few times and can wax eloquent about the demureness of the topli paneer that I had in one, the poetry of the curry of her sas ni machhi (hers is the best by miles) and the majesty of her mutton palao dal. While I have had the good fortune of coming across many wonderful people from the world of Parsi food, I am yet to meet Tanaz but then she is a bit of an urban legend. While you get to experience her food, she is not one to be seen or heard. "People think I am snobbish, but I am not. It is just that I prefer to sit in a corner, head buried in my notebook. Furiously making notes. Focusing on the task at hand," said Tanaz to me when I interviewed her for #FoodocracyForHer on Monday through Zoom. The episode is coming out this weekend on #FinelyChoppedTV
I never had Tanaz's food on Navroz, till this year. Let me explain why.
From what I gather, Tanaz would set up delivery counters at places such as Allbless Baug on Navroz, for Parsi families who would place orders with her in the pre-pandemic world. Come Navroze and the day would start with a visit to the agiary, post which the father of the family and the youngest one would set off on a Bajaj scooter to pick up the order from Tanaz in their own containers and then return home. This gala lunch would be followed by a visit to a (rather ribald) Parsi play in Gujarati, followed by a Chinese dinner at places such as China Gate, Nanking (subsquently Ling's), Chopsticks, Mandarin and, if from Dadar like my in laws, Gypsy Chinese. Not an easy task for non-Parsis!
India went into its first lockdown a year back in March 2020. There have hardly been hardly any lagan or navjot banquets since then, with the pandemic taking over our lives. What became of the Godiwalas, the famous wedding caterers?
"There were times when I felt like crying," Tanaz told me in the interview. "Then I began work on things that I did not get the time for earlier. I have made packaged Parsi pickles and condiments based on my recipes. These can be used by anyone, vegetarian or non-vegetarian, in their own way, to bring in the taste of Parsi food to their kitchens."
Can't wait to use this dhansak masala from A Parsi Affair
The brand is called A Parsi Affair by Tanaz Godiwala and its products can be ordered from across the country and hopefully someday, across the world. "I want to be the 'global empress of Parsi cuisine," said Tanaz to me. The hurt of the year that went by showed in her eyes, even through a Zoom interview. Replaced immediately, by a look of steely determination.
And that is how we ended up on Saturday night having a mutton pulao dar where the mutton was as tender as a sonnet and the dar had all the liveliness and zest of a Parsi lagan (wedding), a sali margi that came dressed in a tantalising khattu meethu (sweet and sour) curry and a patra ni machhi starring a chubby pomfret bedecked in a green chutney that could rival the artistry of a Parsi gara (sari) and lagan nu custard that brought back memories of the closure of a Parsi wedding feast.
Tanaz had realised that she could not stay put in the Parsi baugs anymore on Navroze and, through A Parsi Affair, has begun to explore options of sending her food across the city of Mumbai. That is how we had food from Tanaz Godiwala at home on Jamshedi Navroz. A delicious food trail that reminded us that the human spirit is all about 'not giving up, no matter what!'
Katy Mai's legacy
The other Jamshedi Navroze 2021 meal that I want to tell you about is one which was about keeping a promise. And about making a fresh start.
This was the lunch on Sunday which we had ordered in from our friends Dr Kurush Dalal and his wife, Rhea Mitra Dalal, who run Katy's Kitchen, Mumbai. Katy's had started off as a home chef enterprise founded by Kurush's mum, the late Dr Katy Dalal. She then got into wedding catering and enjoyed quite the run of her own in her heydays. Kurush and Rhea carried on the business after she passed on. We got to know them through blogging circles and have became family friends since. I did not have the privilege of meeting Katy Mai though as she had passed on by them.
Bhonu from Katy's Kitchen on Navroz, Parsi new year, K's Parsi birthday, and when we want to treat guests at home to Parsi food, has been the norm at our place for more than 5 years now.
We had placed an order with them on Jamshedi Navroze last year too. Kurush called me the day before the Navroze and said, "We have decided to close the kitchen after navroze. Settle salaries and let people go. Nothing matters more than life. Things are effed up now"
The first lockdown was announced by the Prime Minister and. Baby Loaf, our elder cat, and I watched him speak on TV. We could not bring mummy home for Navroze. Kurush made sure she got her bhonu. We next saw her four months later. We saw mama a year later on this Navroze. We still have not met masi who preferred not to travel this year too given the news of the second wave. Nor have we met my mother, who finally was able to go to Gurgaon to be with my brother, after being alone in Kolkata for months.
Kurush called me from their Mazgaon kitchen the evening he gave it up. I could sense the tears in his eyes through his choking voice. He told me about meeting a lady in the vicinity, who used to supply them with provisions, and about assuring her that he would try to make sure that she was looked after as long as he had funds, even though the business had closed down. Those were terrible times.
It was an emotional moment. I was on the streets. Mask on. Perspiring in the Mumbai sun. I went to a bus stop to continue our call.
"You guys will come back," I told Kurush, "and we will order from you on Navroze when you do."
The Dalals then rented a temporary apartment at Navi Mumbai for a change of scene while repairs went on in their Khargar pad. Kurush started delivering his lectures on food and history online from there.
"After a while it got maddening to be in a house with no work, where the other person was so busy,'' said Rhea to me when I interviewed her for #FoodocracyForHer.
Katy's Kitchen took baby steps a few months back when Rhea opened it a few months back. This time from her tiny home kitchen. Just as it was when the business started with Katy mai making tiffins from her nome kitchen, which was then near the Victoria Terminus then.
Helping Rhea was Kurush and Sallu Bhai, a staff member trained by Katy whom they had engaged.
This lagan nu custard is Rhea's tribute to Katy's legacy and it does
not get better than this!
The first menu after they came back featured mutton dhansak and lagan nu custard. We placed an order and after lunch messaged Rhea saying, "it seemed as if nothing has changed. It is the 'same old'. Thank you for that"
Since then, Rhea had done many private orders. She has introduced Bengali food too.
"We have not put up weekly menus but we have had some gig or the other since then every weekend and I feel thankful for that," Rhea told me one day. Like me, she is a Bengali married to a Parsi.
Then came Jamshedi Navroz and they announced a menu. Smaller than their menus of yore no doubt, but Katy's was back, and as I had promised I would, we ordered bhonu from them. For us and to send to some of our friends. Mama came over. He is vegetarian as is mummy, and Katy's is one of the few Parsi places to offer vegetarian options.
Kainaz and me, with mummy Pervin and her brother,
Freddy Mama

On our table of joy that afternoon were prawn and veg pulao dals (theirs is more home-like compared to the pomp and glory that Tanaz's pulao dar stands for), kid gosht (tender and ample mutton, cooked in a silken cashew based white gravy), salli margi (sent to friends) kaju paneer (the vegetarian version of kid gos, with very soft paneer), lagan nu ishtu (a mixed root vegetables sweet and sour sabzi) and what is without doubt, the best lagan nu custard in town (this time made by Rhea alone with no help).
And through both these meals, blessed by Rohinton and Freny Godiwala in one case, Katy mai in the other, proudly put together by their children, I learnt what it meant not to give up. What it meant to keep forging on, with hope and faith at the core. Thanks to these magnificent Parsi caterers who, through their work in the kitchen, proved that these are not empty words. That new beginnings are very much possible. not just in fairy tales.
Navroze Mubarak folks. May winter turn to spring in all our lives.
Tags
home chef

parsi food

covid 19 diaries

mumbai food

navroz