Kamal Gatte ka Halwa
Kamal Gatte.. or Indian Lotus seeds.. I found these seeds in a Grocery shop in Banaras that was situated next to Tridev Hotel.. As I was talking to the shopkeeper, I spotted this ingredient. On asking further, the gentleman said that mainly the whole seed is used for the puja.. these are split ones. These have tremendous health benefits.. and people of Banaras make's Halwa out of these seeds.. he said that as kid his grandma use to make Halwa at home.. and very good for eyes, if anyone has cataract surgery, then it's made and given to the patient, but now a days no one wants to make the Kamal Gatte Ka Halwa. It's becoming an extinct dish.. as it's very tedious to make . The seeds have to be soaked and then each seed has to be peeled. That's the reason people avoid making this dish. Here is the recipe..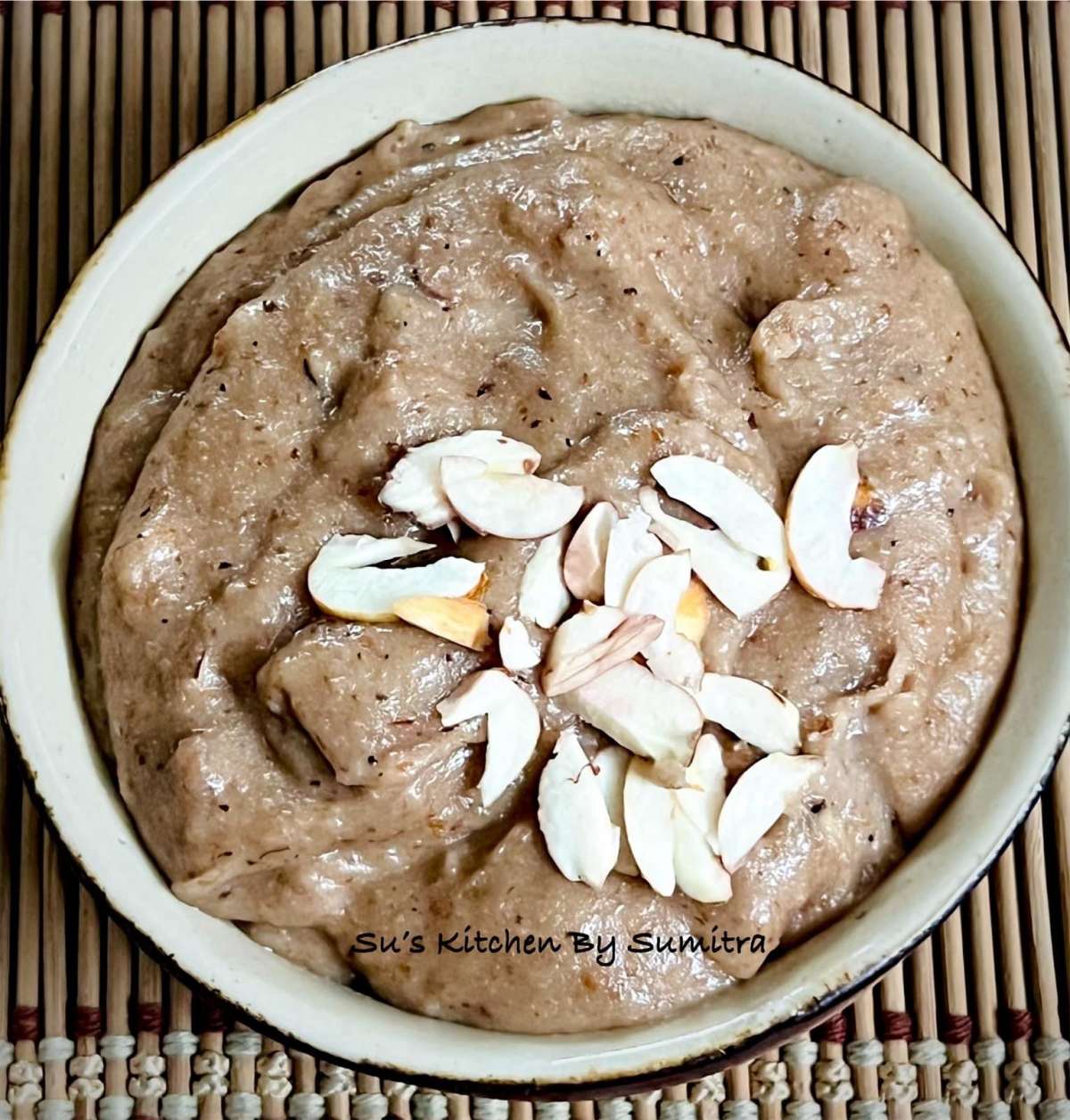 Ingredients
| | |
| --- | --- |
| Dried Split Lotus seeds | 1 cup/s |
| Milk | 2 cup/s |
| Salt | 2 pinch |
| Cardamom powder | 1 teaspoon/s (tsp) |
| Sugar | 4 tablespoon/s (tbsp) |
| Ghee | 4 tablespoon/s (tbsp) |
Method
Soak the lotus seeds overnight.
Peeling the skin is a time consuming process. Also please remove the green embryo. Wash the peeled seeds in hot water. Keep few seeds aside for garnishing, grind rest of the seeds with little water into a paste.
Take 3 tbsp ghee in a pot. Let the ghee melt, add the paste and continue to stir on low medium flame. Add salt and continue to cook. Add the remaining ghee and continue to stir for few seconds. Add the cardamom powder and continue to cook until a good aroma spreads around and the paste begins to form a lump. Add milk, continue to cook and stir until the milk has evaporated, add sugar and continue to stir, once the paste starts to form a lump, switch off the flame, serve the Halwa in a bowl. Garnish the Halwa with lotus seeds flakes.. enjoy the Halwa warm or room temperature.
Tags
Indian recipe

Homemade

sweets

Healthy

Vegetarian recipe