GREEN HUMMUS
A dish from the Middle East that goes well with literally anything and everything! It's got subtle flavour and a creamy texture and is also very easy to make. Made with some easily available ingredients like chickpeas, garlic, extra virgin olive oil, tahini and some spices. However, I've replaced tahini with some hung curd. There's no change in taste, but the calories are definitely lower, and so is the oil. Hummus can be consumed as a dip or a spread and for those from the fit fam, it is used to make numerous pre and post workout meals! This green hummus gets it's colour entirely from spinach and Coriander.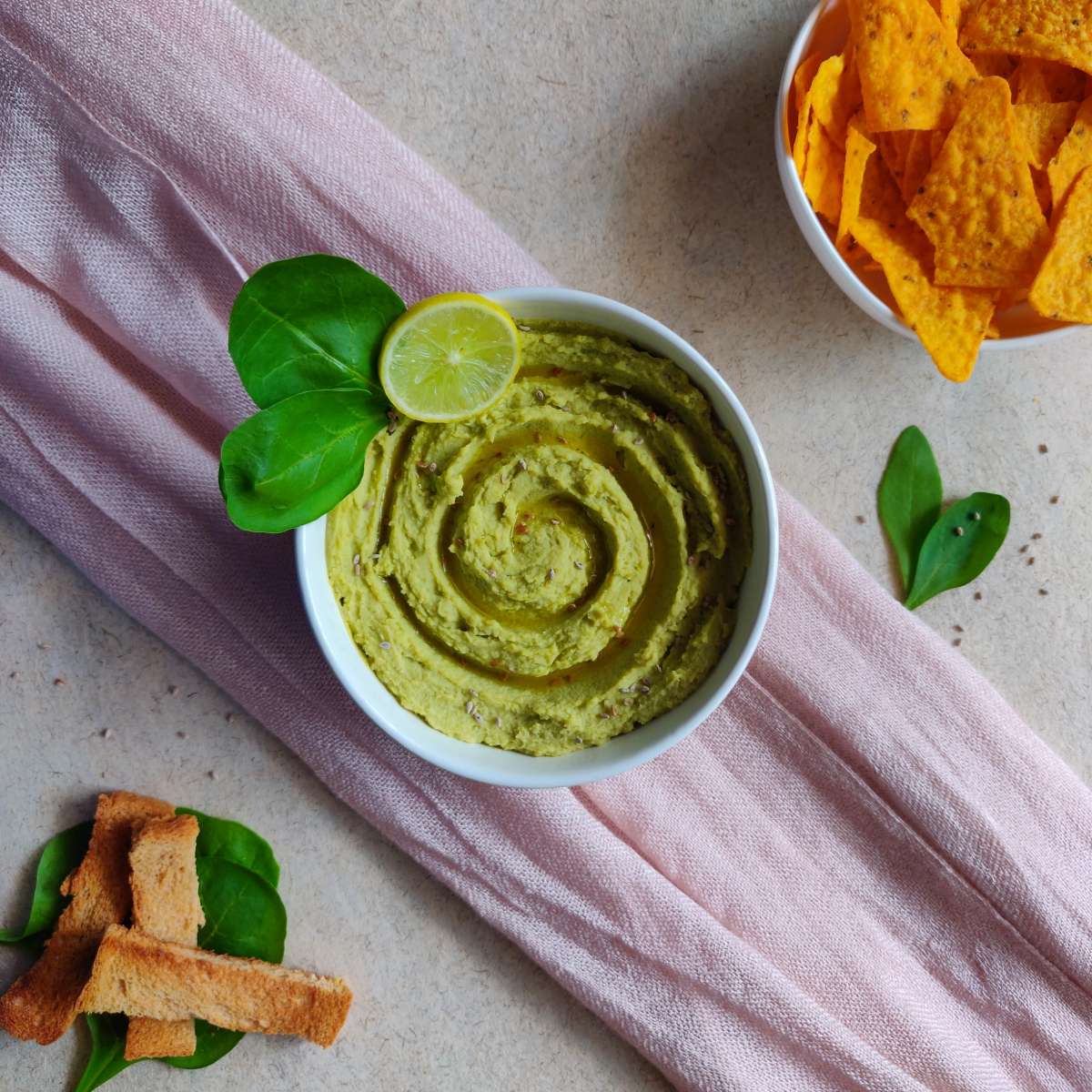 Ingredients
| | |
| --- | --- |
| Baby Spinach | handful |
| Coriander leaves | handful |
| Chickpeas | 1 cup/s |
| Garlic cloves | 3-4 piece/s |
| Hung curd | 2 tablespoon/s (tbsp) |
| Olive oil | 1.5 tablespoon/s (tbsp) |
| Ice cold water | 1/4 cup/s |
| Salt | to taste |
| Roasted sesame seeds | pinch |
Method
1. Soak the chickpeas overnight and pressure cook them on medium flame for about 4 whistles, strain and cool. You can peel the chickpeas if you like. (I prefer leaving the peels on)

2. Add a handful of spinach and a handful of coriander leaves along with 1 tbsp of cold water, 1 tbsp olive oil and Salt and blend until smooth.

3. Add the chickpeas to a blender along with 2 tbsp of Hung curd, remaining cold water, Garlic cloves and blend until creamy. Add more extra virgin olive oil if required.

If you feel that your hummus is a bit dry, you can add a little more cold water and blend until desired consistency is obtained.

4. Transfers to a bowl and garnish with some roasted sesame seeds and serve with Nachos, bread, crackers or even chips, whatever you like!