Exotic Easter delights from around the world
Easter is almost here! Let's take a quick trip around the world and discover the various Easter dishes enjoyed during this festive season
Easter is a joyous occasion that brings together families and friends. And what better way to celebrate this special holiday than with Easter delicacies from around the world? From sweet treats to savoury dishes, every region has its own unique take on Easter cuisine, adding to the festive spirit of the season. With Easter just around the corner, now is the perfect time to start planning your Easter Sunday menu. Come, let's take a trip around the world and explore some mouth-watering Easter dishes that you simply must try!
Zurek: A savoury soup with a tangy twist
Zurek is a traditional soup that is an Easter brunch staple in Poland. This savoury dish is made with smoked sausage, boiled eggs, and sour rye that has fermented for a few days. Zurek is usually served with bread and horseradish to balance out the sour flavour of the soup.
Lamb racks: Succulent and roasted to perfection
If you're a fan of lamb, you absolutely must give this French recipe a try! Simply coat the meat in a herb crust made with breadcrumbs, parsley, garlic and thyme. Roast the lamb until it's juicy and tender, and serve it with a side of roasted veggies, potatoes, or a creamy gratin.
Hot crossed buns: A classic English treat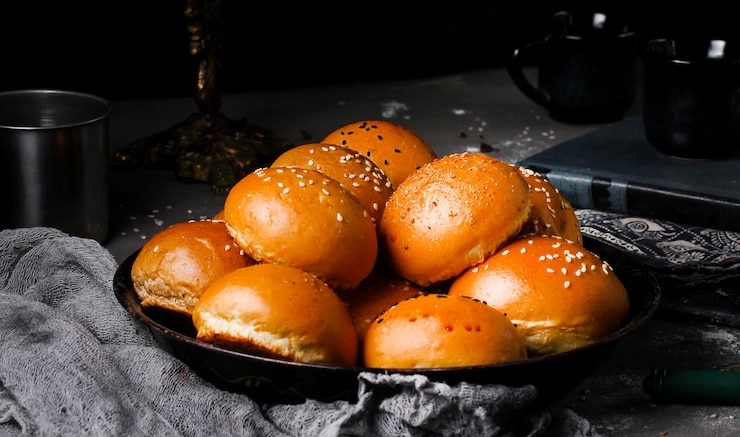 Hot crossed buns are a staple Easter treat in England. These sweet buns are stuffed with dried fruit and spiced with cinnamon, nutmeg, and allspice. They are then topped with a cross made from flour and water, and served warm with butter.
Capirotada: A sweet and nutty indulgence
Capirotada is a delicious Mexican bread pudding made with layers of bread, cheese, nuts, and dried fruit, all soaked in a special syrup made from piloncillo or unrefined cane sugar, cinnamon, and cloves. This dessert is best enjoyed warm and topped with a scoop of vanilla ice cream.
Pizza Chiena: A hearty pie stuffed with savoury goodness
Pizza Chiena is an Italian Easter pie filled with a delicious savoury mix of ricotta, mozzarella, salami, prosciutto, and spinach, all wrapped in a rich pastry dough. The pie is then baked until golden brown and typically enjoyed as a main course. Who said you couldn't enjoy pizza for Easter?
This Easter season, be sure to give at least one of these recipes a try and let us know how it turns out in the comments below. Happy Easter!
Tags
recipes

World

Easter

culinary journey