From The Easel To The Kitchen - The Journey Of Youngest Executive Chef Sabyasachi Gorai
Chef Sabyasachi Gorai, fondly known as Chef Saby by his friends and fans, was marked as one of the '5 people to watch out for' by Fortune India magazine in 2013. At 26, he was the youngest Executive Chef to be awarded the 'Best Chef of India'. And yet, in our freewheeling chat with Chef Saby, he comes across as this rather unassuming person, who looks beyond the conventional. In the midst of one of his workshops at Godrej Nature's Basket, Vikhroli Cucina had a conversation with him. Here's an excerpt
Witnessing Chef Saby's wizardry with the most unassuming of ingredients, giving magical twists to popular American products, interweaving them with the local produce and presenting a mouthwatering and visually stimulating platter, was enchanting, no less. But Chef Saby claims, "It was absolutely by chance that I became a chef."
Of Humble Beginnings
"Being dyslexic, I was not good with the regular subjects and was keener on music and painting. However, art as a subject was too expensive for me to graduate in, and my father was insistent that I graduate, irrespective of the stream. According to him, in Calcutta, even a rickshawallah is a graduate. So hotel management it was for me," explains Saby.
Also, a matter of concern was the lack of assurance on how he'd sustain if he decided to be an artist. "So, pretty much for the want of a stable career, I took up hotel management, without realising that I will end up being a cook," Saby says. Speaking about those days Saby recalls how he would go to a 5-star hotel, look around at the plush lobbies with well-dressed people and think 'oh wow'. "I'd tell myself, 'damn, that's the career you want to have' without realising what goes on in the back," admits Saby.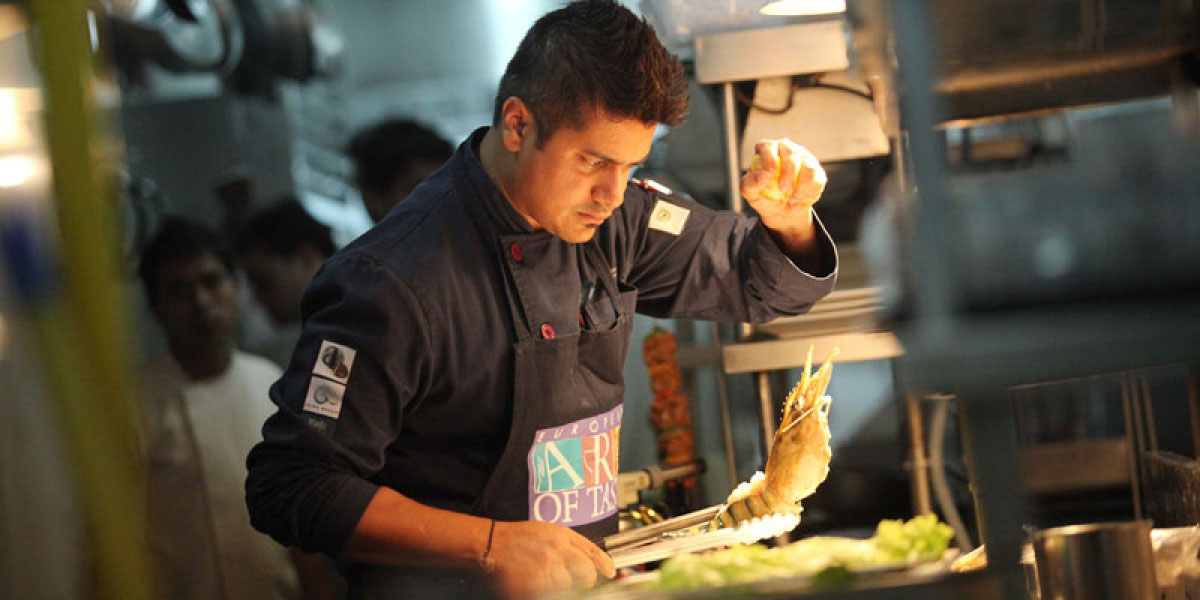 Image source: Chef Sabyasachi Gorai
And when he did begin, it wasn't the "artistry of serving a beautiful dish" which prodded him to become a chef. It was just the sheer fact that he could eat nice food. But gradually he realised that there was much more he could do with food and it gave him a similar kind of feeling that he got when he would paint. It became like a form of expression. It started reflecting in the way he would plate his creations.
What perhaps boosted this reticent man's confidence was a competition held in Mumbai in the third year of college. The event was judged by Chef Sanjeev Kapoor, Chef Manjeet Singh Gill and other stalwarts of the country. "I knew nothing. I was underprepared and had no support or infrastructure system as compared to the participating students who came from the metros. And here I was — highly creative, but without the pre-requisite training or discipline that needs to be at that level. But yet, the 16 judges, every day would come and stand in front of my table and say, 'this guy is weird. He has made something weird again today' and my creation, without fail, would feature in the college newsletter every single day." And the rest is history.
The Veggie Magic
Saby has cooked for the likes of the Mariwalas (of Marico industries), the Bachchan family, the Ambanis, and the Birlas — the binding factor between all these names being, they are all vegetarians. "I could cook with anything. I didn't need a recipe. Looking at the ingredients and products I'd decide what to do. It could be a simple veggie, a bulb, a tuber, or a root and I could rustle up restaurant quality fine dishes," he states. "We have this habit of putting five vegetables together and making mixed-vegetable, but do you ever make a mix meat curry? Vegetables have their own colour. If you treat them nicely, they would taste good and look better," affirms Saby.

Image source: Chef Sabyasachi Gorai

Going Local
At Lavaash, he has consciously opted to go local, from sourcing ingredients from Kolkata to using clay cooking pots and utensils. "It's in our genes, we can't really go wrong with masalas and spices.Living in Australia, going for courses in France and the US, you pick up good skill sets, you pick up best practices, but when you can apply it to your own cuisine, it becomes much better," he reveals.

Like his Delhi-based concept restaurant Soda Bottle Opener Wala which was a tribute to Parsis, having lived half his life in Mumbai. So is Lavaash, a tribute to his childhood spent in the Armenian colony in Asansol. It was a chance reading of his dad's book, '200 Years Of Gold Mining History Of India' with a chapter dedicated to the Armenians, which made him take a step back and think of his childhood. "I went back to Asansol to see all the things that I had lost from my childhood, the people that I had connected to, their food habits, culture, the bakeries that they started, the clubs that they ran…so Lavaash is pretty much a story of that," recalls Saby fondly.

With his fingers in so many pies, we wonder aloud if there is a book in the pipeline and the esteemed chef guffaws, "There are five in the pipeline, as a matter of fact." With the enthusiasm of a child who has been asked to speak about his favourite toys, Saby tells us about his books, one of which is on cocktail recipes and one reflecting his Armenian connect.

When 'Local' Becomes A Global Trend
With this firmly etched in his mind that going desi is the new cool AND sensible thing to do, he is bringing Indian produce back in the limelight. Suddenly ramdana (amaranth), makhana (fox nut) and sabja (basil seeds) are so hep that everyone wants a bite of these in their food. "Unfortunately it took the west to bring it to the limelight. But I'm not complaining, as long as it is in the limelight," says Saby about our desi superfoods.

As we wind up, what stays with us is his infectious smile and the passion with which he speaks about food. In this day and age where awards and recognitions take people farther away from their roots, here is Chef Saby doing everything to get that much closer to his.

Get in touch with Chef Saby on saby@chefsaby.com or follow him on Twitter (@chefsaby).