Recipes you need to try this winter
Try these lesser-known heart-warming recipes this winter
Winter is often portrayed as a magical time when referred to in books and movies. The setting is apt for romantic-meet cutes or a cosy night in with your book. As much as we love those stories, there are aspects to this weather which go beyond hot coffee mugs and warm blankets.
For instance, some say pahari salts, a type of salt which includes multiple ingredients, were invented so as to induce thirst in the cold hilly regions of Uttarakhand.
While we covered the vegetables you can include in your diet here, let's take a look at some lesser known recipes from across the country which will keep you warm during this winter season.
Khaje
Khaje is a sweet snack from Goa. It chiefly utilizes two ingredients apt for consumption during the winter season, i.e, - jaggery and sesame seeds. To make khaje, sieve some besan along with some baking soda and salt. Prepare a dough by mixing it with water and press the mould through a strainer such that it produces thin mini sticks. Deep fry the sticks in some Godrej Veg Oils till they are a light brown colour. Next, prepare a jaggery syrup by boiling some jaggery along with water and ginger juice and set it aside. Transfer the khaje into the prepared jaggery syrup and mix it till all the khaje are sufficiently coated in jaggery. Once done sprinkle some sesame seeds on to them and you're done.
Another interesting jaggery based recipe comes from Meghalaya, and is called Pukhlein. It is made by mixing rice flour with some jaggery such that it forms a dough. Small pieces of the dough are then deep fried till they attain a dark-brown texture.
Kollu rasam
Kollu rasam is a heart-warming rasam recipe from Tamil Nadu, bound to tingle your taste buds. Kollu rasam uses kollu or horse gram as its chief ingredient, which is a pulse widely consumed in the region. Boil soaked kollu in some water. Once done, keep the water aside. Next take some garlic, cumin, pepper and two tablespoons of the boiled horse gram and blitz it into a paste. Next, in a large kadhai, temper some mustard seeds, methi and cumin seeds. Add the paste, followed by some tomato, tamarind extract, turmeric, jaggery and salt. After a few minutes, add the horse gram broth set aside earlier and let the mixture simmer for a while. Your kollu rasam is ready! Mustard, turmeric and jaggery are warm foods, ideal for the winter, alongside the wholesome array of sizzling spices. It can be consumed with rice or as a soup!
You can also use the remaining kollu by sautéing it in a pan with some turmeric, mustard and salt and consuming it with the rice.
Skyu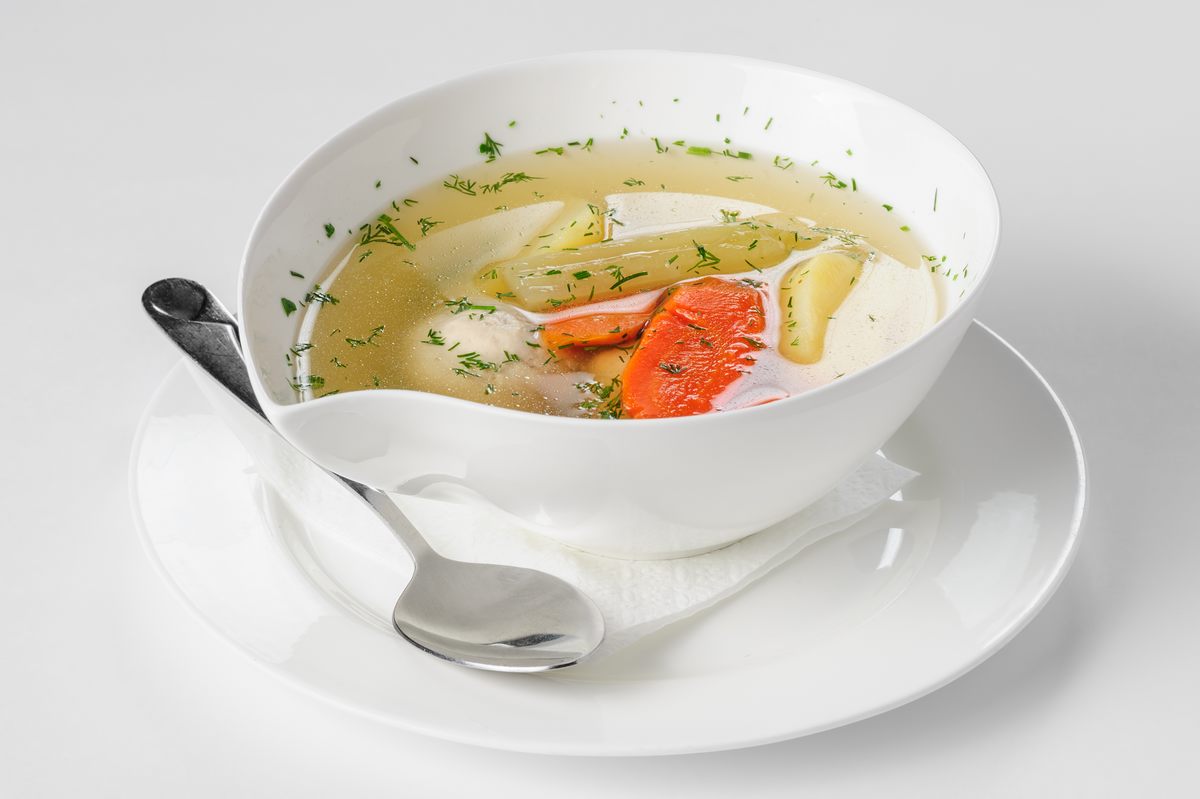 Moving up north, we have an interesting recipe from Ladakh called skyu. It bears resemblance to the Gujarati dish 'dhokli' which is a similar stew made with lentil. Skyu includes wheat based circular moulds which are added to the vegetable or meat broth. To make skyu, prepare a wheat dough and break off small pieces. Roll them into circular balls and press them in the middle with your thumb, thereby creating a depression in the centre. Next, in a wok, heat some oil, and add the vegetables of your choice such as peas, carrot, spinach, onion, potatoes, or sweet potatoes. Sauté the vegetables for a while, post which add water and let the vegetables boil. Next add the round pieces of dough and let them simmer with the rest of the vegetables. You can also add some Godrej Real Good Chicken instead of, or along with the vegetables.
A different variation known as oma-skyu, includes milk which is added a few minutes after the water is introduced to the dish.
Your skyu is ready. Garnish the dish with some coriander and serve hot!
Kuzhambu
A kuzhambu is a peppercorn soup which has its origins in the state of Tamil Nadu. There are two parts to the dish. For the paste, in a pan sauté some red chillies, peppercorn, chana dal, urad dal and hing in a dash of oil. Towards the end, add the curry leaves and blitz the ingredients in a mixer. Add water to reduce the density of the mixture but make sure not to add too much. For the second part, in a pan, temper some mustard seeds, curry leaves and hing. Next, add the tamarind juice extract and let the mixture simmer for a while. Finally, add the paste along with some jaggery and mix the ingredients with a spatula. Take the kuzhambu off the stove after 10 minutes. Your perfect evening snack is ready to eat. If not as a soup you can also enjoy kuzhambu with some hot rice! Quick tip-You can store the kuzhambu paste for a quicker preparation of the kuzhambu in the future.
Thukpa
Thukpa is a mouth-watering dish which finds its roots in Tibet and is the perfect dinner recipe for a cosy wind-down. In a pan, add some Godrej Veg Oil, followed by chopped garlic, spring-onions, and chillies. Next, add some carrots, beans, capsicum and onions followed by some soy sauce, and a bit of honey. Instead of vegetables you can also add meat such as chicken. In case of meat, sauté the meat for a few minutes and set the meat aside. Next, in a large wok, heat a large quantity of water and add the vegetables to the mix. Let the ingredients simmer for a while. Next, add the cooked noodles, followed by the meat, which can either be shredded or in lumps.
Mokthuk, a similar recipe, includes meat or vegetable momos/dumplings instead of the noodles and pairs sumptuously with a spicy broth.
Do you know any more heart-warming recipes you love to enjoy during winter? Tell us in the comments section below
Tags
Godrej Veg Oils, Godrej Real Good Chicken, seasonal recipe, winter recipe, regional recipe