It's all about 'real' cuisine at Seefah
Located on Hill Road in Bandra, Seefah is inspired by the erstwhile The Blue and is a homage to authentic home-style Thai and Japanese cuisine. Owned by the chef couple Karan Bane and Seefah Ketchaiyo, the 2000 square-feet casual-chic restaurant can accommodate about 50 covers. The dominant colour palette is blue (Seefah means blue in Thailand) embellished with cherry blossoms in corners to give it a Japanese touch. Vikhroli Cucina caught up with the husband-wife duo to understand the recipe behind their success.
Tradition rules
The husband and wife duo are changing India's perception of Thai and Japanese cuisine. On offer is an array of simple recipes cooked with aromatic herbs — while Ketchaiyo's cooking is intense, Bane's dishes are milder. Take for instance her Thai green curry, which is simple yet aromatic. "Indians are highly travelled and have a profound love for Thai and Japanese delicacies. Unfortunately, in India, we have been Indianising South-East Asian cuisine to suit the palette. Hence we believe in educating the diners as opposed to altering the flavours and ingredients," she says.
Learning Thai recipes form part of oral tradition as most of the recipes are passed down in the family. In Ketchaiyo's kitchen, sauces and pastes are prepared from scratch. The tricky part is to maintain a balance of flavour and taste while remaining true to tradition. The offerings are as traditional as it gets like for instance their signature Thai chilli crab, a preparation in which the crabs are first sautéed in Thai chilli paste. "We add lemongrass, kaffir lime and bird's eye chillies. The chillies are first roasted and the ingredients are blended and cooked till the oil separates," elaborates Ketchaiyo who has no formal training in cooking. According to her, the kitchen is the temple of gastronomy. She was fascinated to see her grandmother cook and later honed her skills from her father.
All of chef Seefah's signature dishes are about telling stories on a plate. The popular dishes bursting with flavours include California roll filled with avocado and crab and enriched with yuzu mayo, tuna akami sashimi, Eel sashimi and Pad Kra Pow Gai, a crispy fried aromatic chicken.
Focusing on Southern Thai classics is their forte. "Southern Thai food is much hotter with a sharp and intense taste. It is the best place for fresh fish," reveals Bane. The bestsellers include seafood dishes like crab curry with betel leaves and succulent crispy fried fish enhanced with fresh turmeric to give a vibrant colour and refreshing aroma.
For herbivores, Seefah has a separate vegetarian menu giving options in Thai and Japanese cuisine.
Mixed platter

The couple met at Four Seasons' Asian restaurant San-Qui in Mumbai in 2011. Ketchaiyo moved to India from Bangkok and joined as a sous chef cooking Thai food at San-Qui. Bane was a Japanese chef at the same restaurant. Love brewed as the Thai lady eventually married the very Mumbai boy Karan Bane. After a five-year stint at the Four Seasons, Ketchaiyo started her first eatery The Blue in 2016 followed by Seefah in January this year.
Chef's Special

The chefs are constantly on the lookout for new ingredients and cutting-edge flavours. "Every three months we make a trip to Thailand not only for sourcing ingredients but also to taste new delicacies. The market is the essence of culinary travel in South-East Asian countries," adds Bane whose earliest food memory in Japan was Kobe beef at Teppanyaki restaurants and Omakase sushi. As for ingredients, Ketchaiyo procures Flying fish roe, butterfly pea flowers and roselle flowers from Thailand.
Innovation is the name of the game

The chefs keep on making additions to the menu as per the seasons. For sushi snobs, there are salmon, tuna and yellowtail nigiri. Sometime back, they introduced the Japanese Izakaya menu (popular in Japan for bar eats) like for instance, tamagoyaki, which is essentially Japanese omelette and roasted tenderloin salad. In monsoons, hot noodle bowls are extremely popular. "In October, we plan to do more seafood," Bane informs.
All in a day's work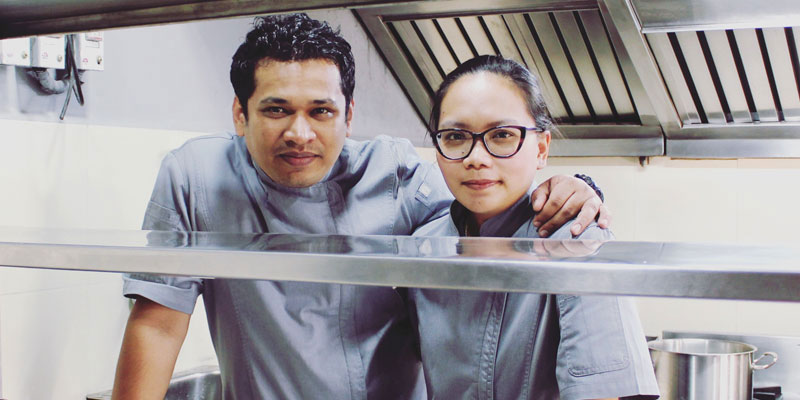 Both Seefah and Karan perform a balancing act. They alternate between wearing the chef's hat and managerial cap. They slave long hours in the kitchen preparing the all-important sauces and pastes. Ketchaiyo starts her day at the kitchen supervising the backend work from procurement of ingredients to monitoring the quality. Bane, on the other hand, is more involved in the day-to-day functioning of the business. "We both come to the kitchen at 10.30 am which extends till 11 pm. Keeping a close eye on the dishes being whipped up and what's going out is part of our job," says Bane. The owner-chefs inevitably like to add a personal touch. While Ketchaiyo is always called to the stove to make Thai green curry (a frequently ordered dish), Bane's Japanese sushis are the bestsellers.
Future plans
The duo has charted an innovative path in business by creating edgy food. "Now that we have a big kitchen, we plan to experiment with our cuisine and keep on innovating," adds Bane. The couple has plans to convert the adjoining open terrace into a herb garden growing Thai herbs like lemongrass, Phakchi (Japanese coriander) and pandan leaves.

Bane, however, reckons that there are no guarantees of success. "The recipe must be authentic and cooked with love," he signs off.