Print
Air Fryers: A versatile addition to the traditional Indian kitchen
Unlock the versatility of air fryers with some classics from the Indian culinary scene
In the world of kitchen appliances, one cooking tool has taken the culinary scene by storm - the air fryer. With its promise of healthier, crispy delights, it's no wonder that air fryers have become the latest trend in cooking.
This versatile cooking appliance seamlessly integrates into the rich culinary tradition of the Indian kitchen. With its ability to create healthier versions of classic dishes, the air fryer has the potential of becoming a game-changer in the world of Indian cooking.
By using hot air circulation, air fryers create crispy and delicious fried dishes with significantly less oil. But despite using less oil, they excel at retaining the authentic flavours of Indian cuisine. From the aromatic spices of chicken tikka to the delicate balance of flavours in cutlets, the hot air circulation ensures that the dishes are evenly cooked.
Let's dive into the versatility of air fryers and explore some dishes that you can prepare using this magical contraption.
Crunchy Samosas
Samosas, the quintessential Indian snack, are typically deep-fried and laden with oil. However, air fryers revolutionize the game by delivering the same golden, crispy texture without excessive oil consumption. Stuff them with spiced potatoes, peas, and other delectable fillings, and let your air fryer work its magic.
Tandoori Delights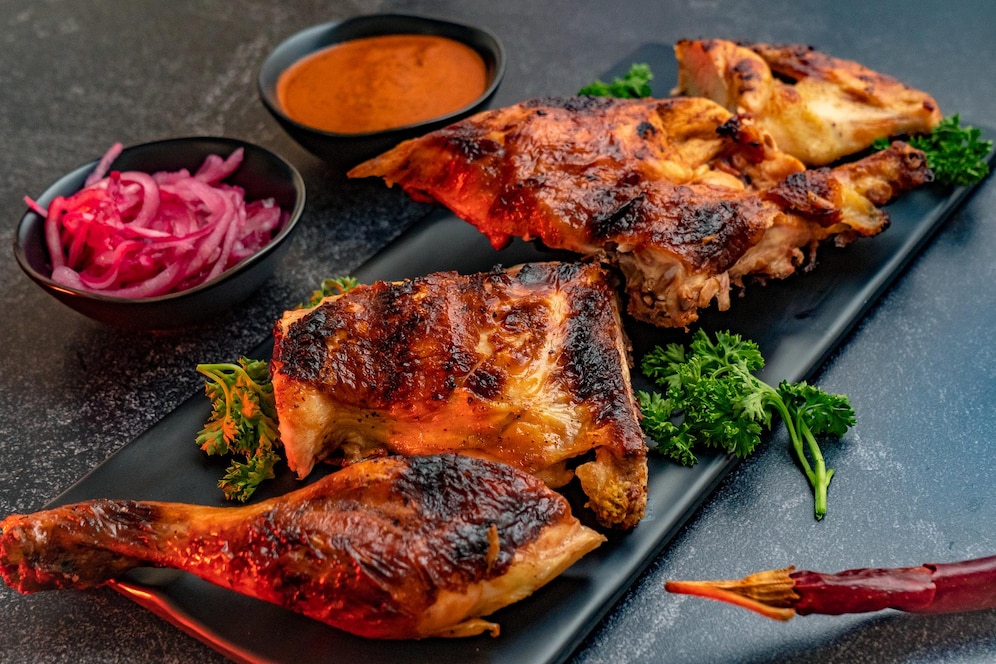 Bring authentic flavours of tandoori cuisine to your home with the help of an air fryer. Marinate some boneless Real Good chicken, Jersey paneer, or even vegetables in a blend of yogurt and spices, then let the air fryer mimic the intense heat of a tandoor oven! The result? Tender, succulent, and smoky tandoori treats that will leave your taste buds wanting more.
Chicken Tikka
Air fryers come to the rescue when you crave restaurant-style chicken tikka but want to avoid excessive oil. Marinate some Real Good chicken chunks in a blend of spices, yogurt, and lemon juice, then air fry until perfectly cooked. The result is tender, juicy chicken tikka with a delightful charred exterior. Or better yet, put some Yummiez Punjabi Tikka Chicken directly into the air fryer for a ready-to-eat tandoori delight!
Tikki
Tikkis or cutlets are a beloved street food which traditionally involves shallow or deep frying. With an air fryer, you can savour these patties with a guilt-free conscience. Celebrate the International Year of Millets with the Yummiez Millet Patty, packed with the power of jowar and bajra. Enjoy this superfood, a rich source of protein, fiber and minerals, in the form of bite-sized tikkis. Place the Millet tikki into the baking tray of the air fryer, pre-heated at 200 C and bake for about 3 minutes, after flipping each side and serve hot!
Crispy Papadums
Papadums, thin and crispy lentil wafers, are a staple in many Indian cuisines. Instead of frying them in oil, you can achieve the same crunchiness by air frying them. Place the papadums in a single layer in the air fryer and cook until they become light, crispy, and irresistibly delicious.
The air fryer can be seamlessly integrated into the traditional Indian kitchen, with its ability to reduce oil usage, retain authentic flavours, and provide versatile cooking options, it has the potential to become an indispensable tool for Indian home cooks. Embracing the air fryer revolution in the Indian kitchen opens up a world of culinary possibilities while promoting a healthier lifestyle.
Tried any of these? Let us know in the comments below
Tags
Cooking tips

Kitchen hacks

Easy tips