Six delicious dishes to make from taro leaves
The humble colocasia leaf or arbi patta lends itself to a variety of recipes across the country. Here are some lesser-known ones that are worth trying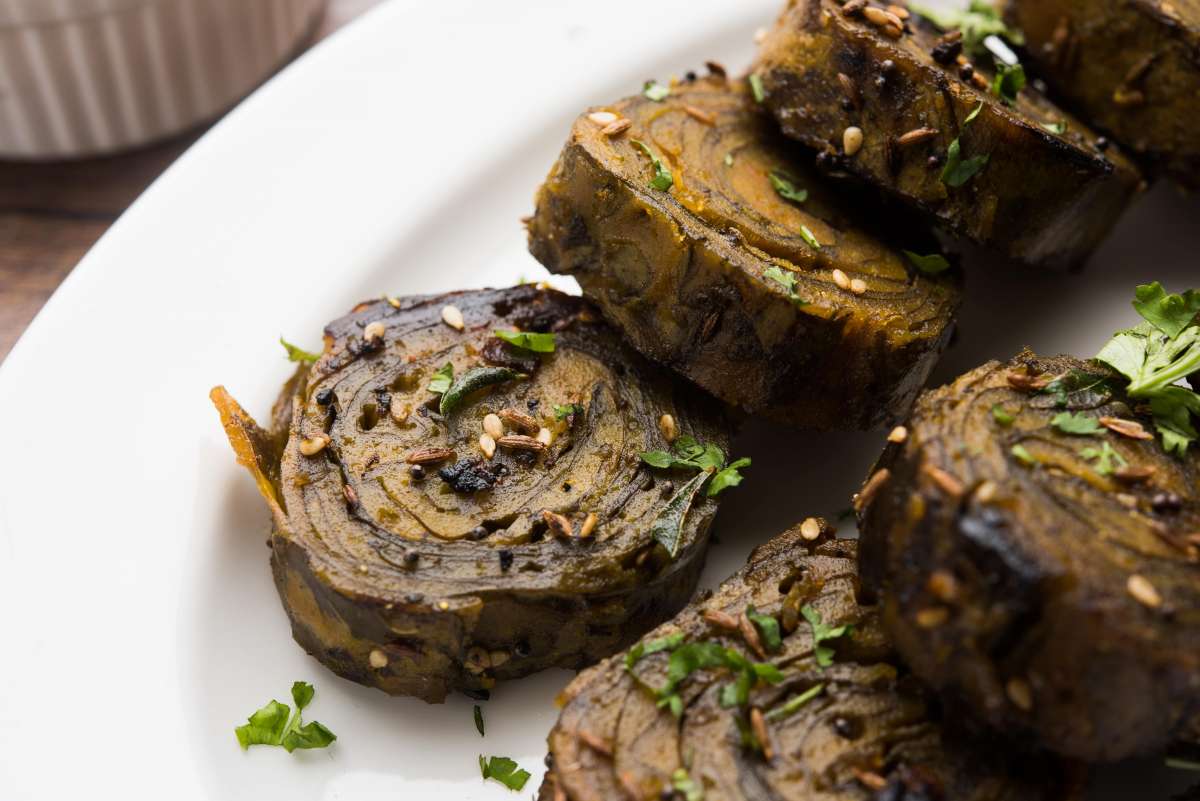 The heart-shaped, bright green leaves of the taro or colocasia plant make quite a pretty picture. Known as 'elephant ears' (due to their unique shape), taro leaves are known by different names — arbi ka patta (Hindi), kochu (Bengali), alu che paan (Marathi), chempu in Tamil, and kesave in Kannada. However, not only are these leaves striking to look at, but they taste equally delicious. Colocasia leaves can be used to make a plethora of recipes in various regional cuisines across the country. And with the renaissance of Indian regional cuisines being predicted by the Godrej Food Trends Report 2021, what better time to explore some of these lesser-known dishes?
Here's a look at six ways in which Indians eat taro leaves.
Kosu aru hukoti
This Assamese side dish stars colocasia and dry fish. Red lentils are first pressure cooked with tender colocasia leaves and stems. Sliced onions, tomatoes and green chillies are then sautéed in mustard oil and ginger-garlic paste. The colocasia mixture and ground-up dry fish (also called hukoti) are then added to the pan. The smoky flavour of the mustard oil and hukoti pair well with the earthiness of the colocasia. Kosu aru hukoti is usually served with hot steamed rice.
Patvelia gosht
Also called patrel biryani, this Bohri dish is a misnomer because it doesn't feature any rice at all! The dish features slow cooked mutton chunks or kheema and patvelia (colocasia leaves) smeared with a spicy, sweet and tangy chickpea flour (besan) paste, layered and steamed. This rich dish is usually eaten with roti or even by itself.
Patrode oggarane
Patrode oggarane is a traditional recipe from the Dakshina Kannada district in Karnataka (Mangaluru and Udupi). Patrode is similar to Maharashtrian alu wadi or Gujarati patra in which the colocasia leaves are smeared with a spicy batter made of rice and coconut (instead of besan like its counterparts), rolled up and steamed. Patrode oggarane is prepared by finely chopping the steamed rolls and sautéing the pieces with coconut oil, mustard seeds, grated coconut and jaggery. This sweet, tangy and spicy dish is usually served as a snack or even breakfast.
Aluche fatfate
Alu (not to be confused with the tuber aloo) is what Maharashtrians call colocasia or taro leaves. Aluche fatfate is also called aluchi bhaji and is usually prepared using tender taro leaves, which gives the curry a silken texture. The curry offers a medley of flavours and textures due to its ingredients used in it which include raw peanuts, chana dal, coconut, jaggery and tamarind pulp. This sweet and sour curry pairs well with rotis and bhakris.
Rikwach
This popular snack in Uttar Pradesh is similar to patra, but with urad dal and chana dal-based filling. Also called arbi patte ka pakora, rikwach is also often added to a mustard-based curry and served with steamed rice as a main course dish called rikwach rasedar.
Kasu Xaak Konbilahi Dali
This simple yet delicious recipe pairs red lentils (masoor dal) with colocasia leaves. This fragrant dal is a popular dish in Assam tempered with mustard oil and panch phoron (the quintessential Bengali spice mix). Kasu Xaak Konbilahi Dali is usually served with steamed rice.
Are there any other dishes that you know of using colocasia leaves? Let us know in the comments section.
Tags
Monsoon

regional cuisines

Godrej Food Trends Report 2021

monsoon vegetables

colocasia