Humble millets hog the limelight
Once relegated to regional cuisines of rural India, the humble millet has found its rightful place on the menus of restaurants. According to the Godrej Food Trend Report 2018, the power-packed seeds are predicted to be one of the top trends this year. So, we got the chefs of well-known restaurants in Mumbai to share their favourite millet dishes on their menus. Find out which ones made the cut and why.
The Bombay Canteen
The Bombay Canteen is known as one of the restaurants who made indigenous ingredients and regional food cool again. Jowar and bajra feature on the menu in the form of two dishes. Chef partner Thomas Zacharias says: "We wanted to showcase India's incredible indigenous ingredients which are being forgotten and lost. Our barley and jowar salad has jowar in three forms — green, boiled and puffed. They are paired with pomegranate seeds, cilantro stems and a spicy hung curd dressing. Our millet khichdi on the other hand uses different kinds of Indian millets, namely kodo, proso and foxtail cooked together with moong dal and spices. It is served with a selection of seven different accompaniments, each paying homage to a particular region in India and the way they eat their khichdi." Chef Thomas says these dishes have been well received, "Our guests appreciate the fact that we try and bring them back to their roots through these local ingredients. People are not only being more receptive to these but are also now getting very excited."
Masque
Chef Prateek Sadhu believes that it is important to showcase the versatility of indigenous crops like millets and the different ways they can be used, ranging from comforting, homely food to restaurant-worthy, fine dining dishes. He explains, "Our menus do feature Indian millets from time to time — most often foxtail millet. A recent menu featured a small plate of lamb brain beignets served with saffron millets." And the response to these dishes? In Chef Prateek's words, "Excellent! For some, the idea of eating brain can be a bit off-putting, but we're also a country that loves a good bheja fry! We also plan to introduce smoked trout and soured yoghurt with foxtail millets, cooked with saffron and pickled onions."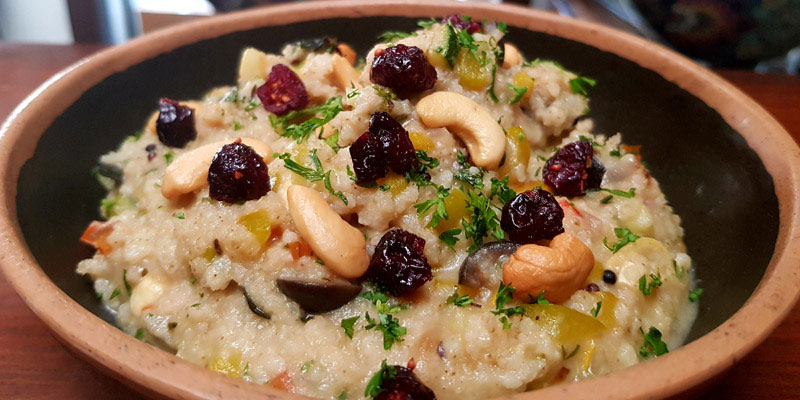 Gymkhana 91
Proso millet is the star of a popular breakfast dish at Gymkhana 91. "The millet and berry upma is a healthier version of our favorite South Indian breakfast dish," says Aditya Hegde, the owner of the restaurant. He adds, "Using the millet instead of rava makes it healthier and helps our clients start their morning on the right note. It's high in protein and carbs so it makes for a perfect breakfast dish." According to him, guests have loved this version of the humble upma since it's something different from what is usually available.
Trident Bandra Kurla Complex (BKC)
Guests at the Trident BKC have been requesting for millet-based dishes, says Robin Batra, the Senior Executive Sous Chef. "Millets are healthy plant-based protein and a good source of vitamins, minerals, a variety of phytochemicals and fibre." The Trident BKC offers two pearl millet-based dishes. Chef Robin explains, "One is millet crepes with tomato and curry leaf relish, a western-Indian fusion dish, where we make small pancakes of millet flour and whey and roll it up with low-fat cheese. The second dish is millet and spinach chilla with burani raita and masala onions. It is a different take on the traditional besan chilla. Made with millet flour, onions, tomatoes, green chilli, coriander and spices, the chilla is filled with spinach and onions."

The Godrej Food Trends 2018 Report highlights significant trends that that will impact everyone in India's food space, whether it is consumers, producers, manufacturers or retailers. It also illustrates interesting shifts in behaviour.