Cut the junk and try these healthy snacks instead
We've all had those junk food cravings when we should be eating healthy. But, what if we told you that you can actually have it both ways?
While eating healthy is always recommended, one too many slips occur from time to time. We have a bad day at work, and we seek comfort food, or are not mindful and reach for a packet of chips. The list is endless. But with a little planning, creativity and the use of healthy ingredients, this can change.
Mindful eating, psychological well-being, and our impact on the economy and environment were all slated to be the top priority in 2022, according to the Godrej Food Trends Report (GFTR) 2022. Further, it states that with 'eating for wellness' being a top priority, the focus will be directed on intuition-based eating to forge a good relationship with food.
"We are all human with flesh and blood, we make mistakes," says Mickey Mehta, renowned fitness coach and founder of Mickey Mehta's Gym. "But be watchful. If you know when to stop you will not slip and fall, you will grow tall. It's important to be aware of your indulgences such that you are the one in control and not a slave to your taste buds," he adds.
So don't worry, we've gathered a host of quick healthy snacks for your next movie night binge.
Snack it up with the Peri peri makhana
Ditch the fries and try adding the peri peri masala to roasted makhana instead! Make sure the makhana is roasted to crunchy perfection for a satisfying snack!
Spice up your guacamole with vegetable chips
You might not love avocado but we bet the guacamole dip will win you over. Made with mashed avocado, chopped onions, tomatoes, and garlic, it acts as a wonderful accompaniment to some roasted vegetable chips. You can make some beetroot chips by microwave roasting some sliced beetroot for a crunchy batch and garnishing with salt and pepper powder!
Hail the hummus with vegetables
Hummus with vegetables is the best duo for a heavy and tasty snack! And guess what? A whole range of vegetables and fruits like cucumbers, zucchini, peppers, onions, blueberries, and strawberries can be paired with the wholesome hummus. For a twist, make a carrot puree and add it to your hummus for a carrot-flavoured hummus.
How about some paneer tikka
A shallow-fried paneer tikka is perfect when you're cravings something desi. Marinate your paneer pieces in a paste made of turmeric powder, chilli powder, coriander, lime, ginger, garlic and curd. Gently cook both sides of the paneer in olive oil and serve in skewers with some green chutney.
Get your metabolism going with peanut butter with fruits
Peanut butter, made with roasted peanuts, is also a healthy and filling accompaniment to not only bread but also fruits. Add honey instead of sugar to your peanut butter for a healthier batch! Serve cut pieces of fruits such as apples, grilled pineapples or berries like strawberries or grapes alongside a bowl of peanut butter and just like that, a tasty and healthy snack is ready!
Ditch those oil snacks, settle for fruit-based smoothies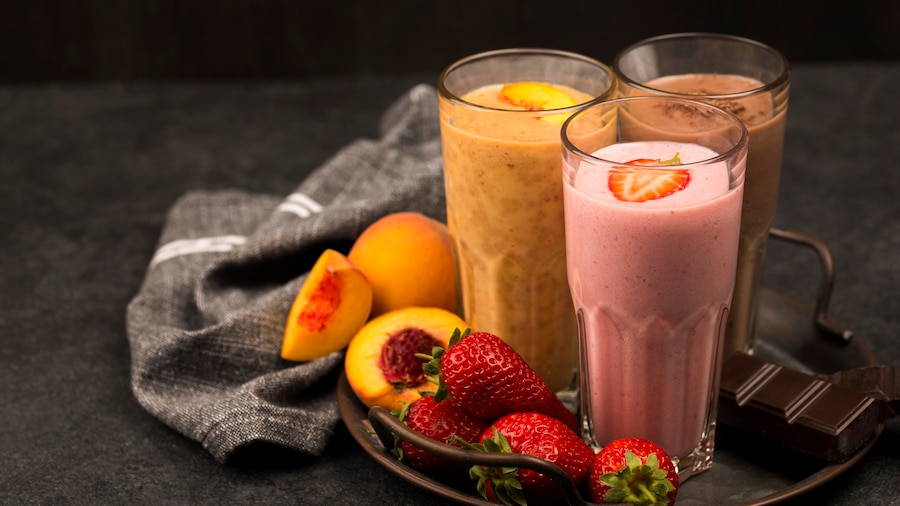 Fruit smoothies are a lot easier to make than you think. In a mixer, add cut pieces of your favourite fruit, add some yoghurt (or milk) and blend into a delicious smoothie. Fruits such as strawberries, bananas, mangoes make for some naturally sweet and hence yummy smoothies!
So try some of these healthy snacks this month and let us know if it helps you avoid junk, in the comments section below
Tags
Snack

Healthy

Easy recipe

Smoothie

Quick Recipe

Fruit based recipe

Guilt- free recipe