Vicky Ratnani's Peruvian food escapade
Celebrity chef Vicky Ratnani talks about why Peru richly deserves its tag of a foodie destination and how he ticked an item off his bucket list.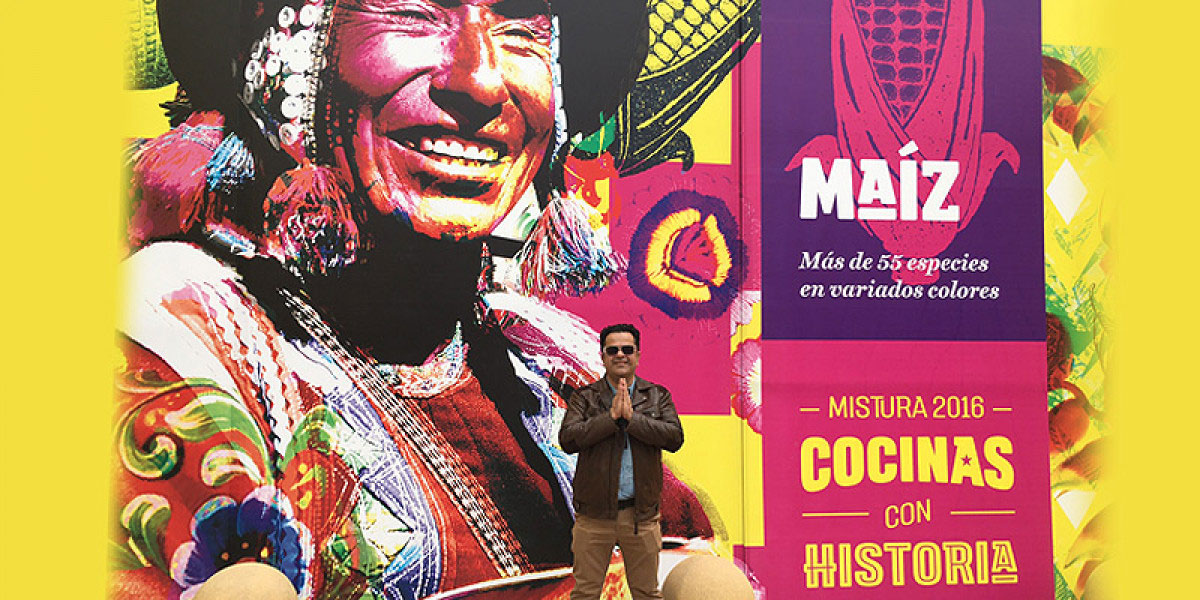 Chef, television cookery show host, cookbook author and traveller — Vicky Ratnani juggles several hats. The celebrity chef who has been enthralling audiences with his television shows has now gone a step ahead. His latest web series — Vicky The Gastronaut — is live on his YouTube channel and Facebook page.

Vicky The Gastronaut made its debut with the chef's travelogue on Peru. While Peruvian food has been taking the world by storm, Vicky says that is not the only reason he wanted to visit the country. "I've always been fascinated with Peru. I last visited it around 12 or 13 years ago when I used to work on the ocean liners Queen Mary 2 and the Queen Elizabeth 2," he explains. "I fell in love with it. Not just the food and culture, but I've also been a big follower of the Incas, Shamanism, Machu Picchu, etc."

A foodie's paradise
In 2016, Vicky's dream finally materialised: he got to take a nine-day-trip for Mistura, the biggest food festival in Latin America. He discovered some great food both at the festival and on the streets of Peru. His top picks? Ceviche (seafood cured with citrus juice and chillies), anticuchos (grilled meat skewers which is a staple street food), pan con chicharrón (an iconic pork roll that Vicky calls Peru's vada pav) and cuy (guinea pig meat which is extremely popular in the Andean region).

Vicky also sampled the finest fare at some of the best restaurants: "I ate at Central, La Mar Cebichería Peruana, Maido, and Astrid & Gaston. All four are on the list of the world's top 50 restaurants this year. Central has also been the best restaurant in Latin America for three consecutive years." In fact, he says that was also where one of his most memorable moments was, "One crazy experience was sitting in Central where Chef Virgilio Martinez, the genius, was working with indigenous produce and his tasting menu was based on the altitudes."

Peru is often called a foodie destination and according to Vicky, it's no surprise why. "Peruvian cuisine is influenced by Africa, China, Japan and Latin America, so there is a whole plethora for a foodie and a chef. The country also boasts of great produce including corn, 2000-3000 varieties of potatoes, quinoa and some amazing fish. The most fascinating market I've seen is the fish market in Lima."

Taking it back home
In Vicky's words, his trip to Peru was a life changing journey. Not only did he get to eat some of the best food, but he also trekked to Machu Picchu. "For a person who loves to travel and trek, it's paradise. I would definitely put one big tick on my bucket list."

Vicky has carried some of the flavours of Peru back home with him. "I did recreate Peruvian food at my former restaurant Korner House where I showcased around 8-10 dishes. The menu at my future eatery has a lot of Peruvian influence as well."

Even as Vicky The Gastronaut continues to give foodies a virtual taste of Peruvian cuisine, the chef is already busy with other projects. "The second chapter of Vicky The Gastronaut is about Australia. I have already finished shooting and it will go live in around three months." He is also busy with the launch of Hello Green, Nutralicious Food by Vicky Ratnani, his new venture which focuses on healthy, vegetarian fare. Ask him if he has any culinary trips planned in the future and pat comes the reply, "Every trip that I take out of town or out of the state or country becomes a culinary trip. I try to pencil in at least one meeting with a food historian, a foodie or a chef, and try to go to the local markets. That is how I learn."

One of India's most loved chefs, Vicky has had an interesting career and several prestigious assignments: he was Nelson Mandela's personal chef, he has cooked for Queen Elizabeth and Rod Stewart, helmed kitchens at several popular restaurants, and worked at Cunard, the prestigious transatlantic ocean liner company. However, it's clear that Vicky isn't ready to rest on his laurels and is always hungry for more.