The Undiscovered Cuisine Of Malnad
The freshness of the local ingredients and the variety in the regional culinary landscape makes Malnad cuisine an unforgettable culinary indulgence
The Malnad (also known as Malenadu) region of Karnataka is situated on the western and eastern slopes of the Western Ghats. The Malenadu literally means 'Land of Hills.' In this heavily forested, wet, temperate region, coffee is grown in abundance. In fact, the Malnad coffee is known for its rich flavour and aroma that is characteristic of the South Indian filter coffee. Food blogger Bhakti Menon sets out on a unique journey to this picturesque coffee haven not only to relish the beverage, but also to explore Malnad's rich culinary legacy and previously unknown traditions of its regional cuisine.
Delicious traditions
For some, Malnad cuisine may seem like a blend of Coorgi and Mangalorean cuisines. The cuisine of the region is centred on bringing out the best from local produce which is a treat to savour. Households in this region follow traditional cooking practices such as cooking on a wood fire, using copper and bronze vessels to prepare and serve food during feast, and making use of fresh milk over bottled variety for daily use. Their dishes are simple and laced with freshness of local produce like pepper, jackfruit, young bamboo shoots and kesa (colocasia) leaves that grow abundantly in paddy fields.
Varied traditions
A closer look into its food habits reveals the diversity of the region. The curries known as saaru in the region is spicier in Hassan; whereas in Chikmangalur homes, the curries are milder in taste. Traditional Malnad preparations use very little oil and dry masala powders (one of the exceptions being red chili powder) and rely on freshly ground masalas for taste. Steaming is preferred over frying, which lends a healthy touch to the cuisine.
During my stay, I discovered that single dishes have multiple varieties with locally available produce subsequently incorporated as a dietary staple. Hilly regions like Chickmagalur primarily consume rice and rice-based delicacies while plain regions like Hassan situated at lower altitude include a lot of ragi (finger millet) preparations like ragi dosa and ragi mudde. The latter is a healthy and nutritious dish of ragi balls that are relished with sambhar or curry. Some regions also use fresh mint leaves to flavour rice and homemade curries.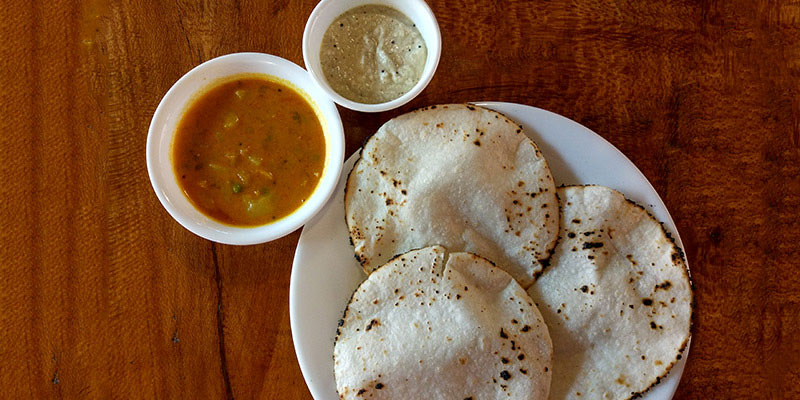 Malnad musts
Some must try dishes from Malnad region include akki roti (flat-breads made with rice), both plain and spicy which are relished with sesame or coconut chutney; maamsa saaru (mutton curry); menthya saasive (gravy made with fenugreek seeds); idiyappam (typical steamed breakfast delicacy made with rice flour); halbai (rice halwa), pepper mutton (dry mutton preparation) and more.
Festivals like Gauri Ganesh, Diwali and Suggi Habba (harvest festival) are celebrated with more delicacies. Kai kadubu, steamed dumplings made with sweet coconut and jaggery fillings, are prepared during Ganesha festival. Whereas, Diwali sees people indulging in holige or sweet cardamom-laced preparation similar to puran poli made with toor dal, jaggery, refined flour and fine rava. Suggi Habba a vibrant harvest festival is celebrated across rural pockets with a delicious payasam made with harvested rice, fresh milk and jaggery.

The cuisine of Malnad draws it inspiration from its culture and locally available ingredients. The food tastes homely and is served fresh-off-the stove, making the Malnad spread quite an amazing indulgence.