On a kebab trail in Lucknow
A kebab fit for a king, the history of galouti kebab is as impressive as the dish.
Photo by: Sushmita Biswas
Among the several regional cuisines that are making a comeback as featured in the Godrej Food Trend Report 2020, Lucknow with its prominent food culture stands out. Besides the Lucknowi tehzeeb (culture), food is an indispensable part of Awadhi culture. The Lucknowi food trail is incomplete without its delicious kebabs.
A quintessential Lucknowi platter consists of an array of juicy kebabs char-grilled and cooked to perfection. Almost all kebabs have chronicles of their own, worthy of being savoured. But perhaps the most fabled one that packs a punch is the popular galouti kebab. The word 'galouti' meaning 'the thing that melts in the mouth' and that's what it is all about – succulent, juicy and flavourful.
Gastronomical history
Kebabs were a standard fixture in royal cuisine during 13th century A.D. But until the 16th century, kebabs were quite chewy and hard in texture. It was during Nawab Asad-ud-Daula's (1748 - 1797), heir of Siraj-ud-Daula, reign that Lucknow's culinary culture was transformed. Asad-ud-Daula was a man of saqafat or taste. His love for kebabs was well-known. He had special orders for his rakabdars (gourmet chefs) to come up with a new kebab variant of every day. Legend has it that when the ageing Nawab of Lucknow lost his teeth, he ordered for experiments in the royal kitchen to prepare a meaty kebab that required less chewing. The royal cooks rose to the culinary challenge and the resulting patty-shaped galouti kebabs were born, which were crispy and brown from the outside and soft from inside.
A spicy treat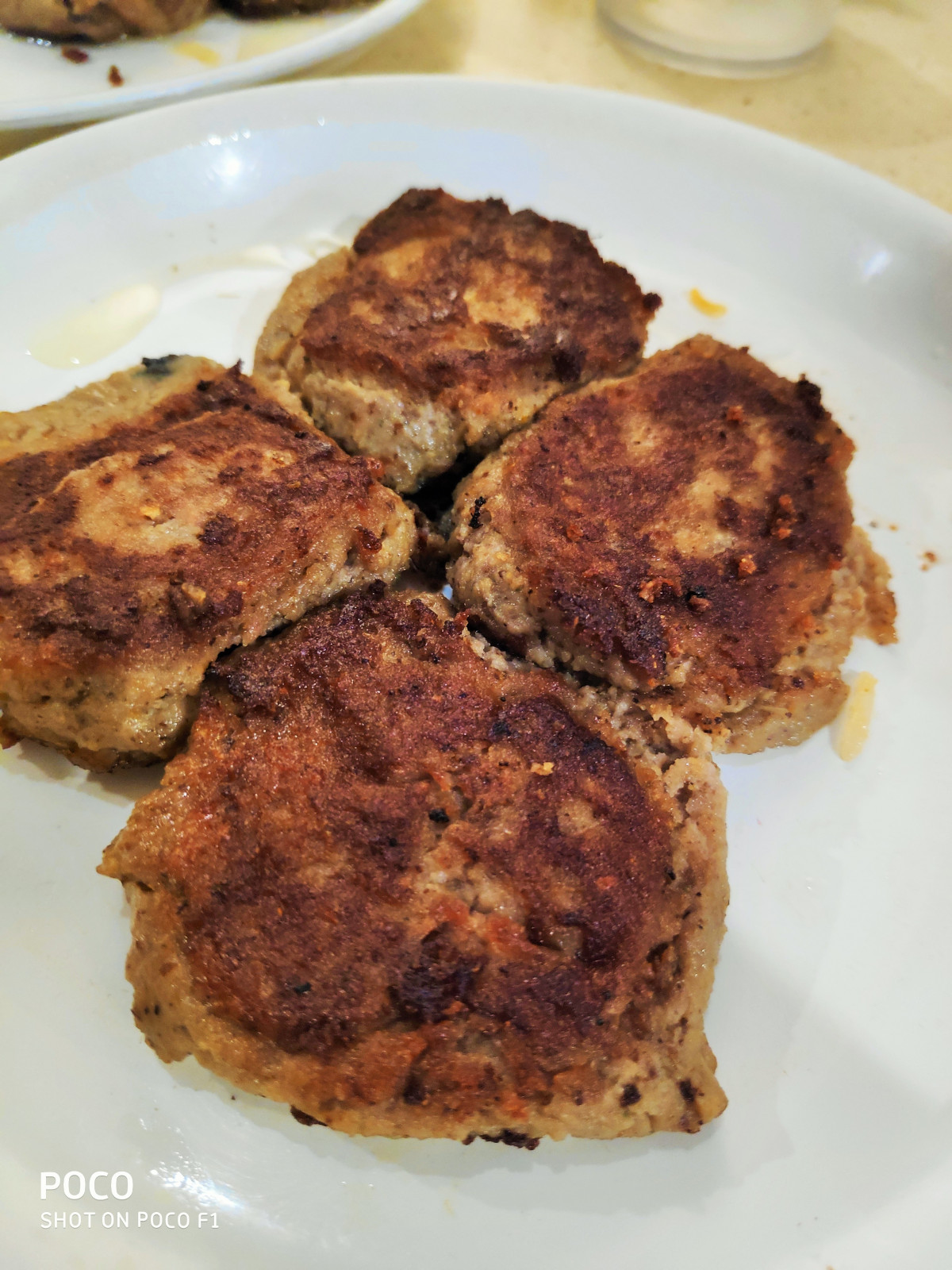 (Image of Tunday Kababi)
Kebab aficionados have the meat-loving Nawab to thank for this sumptuous dish! This delicacy, once a jealously guarded secret, originally used some 150 spices and flavourings. It is believed that it was the expert kebab maker Haji Mohammad Fakr-e-Alam Saheb, who made the first galouti kebab. The result was a creamy delicacy that used the finest cuts of lamb, minced finely and flavoured with 150 exotic spices. The minced meat was then shaped into patties and fried to a silky finish. The legendary kebab has a meaty flavour with floral fragrances and cooked in oodles of fat. Raw papaya paste (or mango) was used as tenderiser to make it soft.
This stunning dish works on the combination of knowledge, proportion and pounding the meat to tenderise it. For preparing the kebab, finely minced meat (buffalo, mutton) is tenderised in a paste of raw papaya, ginger, garlic, roasted chickpea flour and an unusual combination of spices. The uniqueness, however, is the spice mix – mostly ingredients used in Ayurvedic and Unani medicines. The regular garam masalas include peppercorns, shah jeera (black cumin seed), black and green cardamoms, cloves, cinnamon, mace, star anise, nutmeg and kebabchini. Along with this, an array of herbs and spices like pathar ka phool, ashwagandha, balchad, chandan burada, rose petals, pan ki jad, rampatri, khus ki jad, rajgeera, to name a few, are added. The kebabs are then simmered on low heat with an intermittent oil or ghee baste.
Evolution of the kebab

(Galouti kebab being prepared at Lucknow's Tunday Kababi)
This dish has stood the test of time. Today, instead of using the ubiquitous pathar ka phool or even rose petals, chefs like to flavour the minced meat with minimal spice blends. Every generation of chefs after Haji Mohammad Fakr-e-Alam Saheb went on perfecting the kebab mix making it silkier in texture. Finally, it was the one-handed Haji Murad Ali, one of the finest chefs of the time, who got the consistency right. This was achieved by introducing a certain amount of fat. When it was finally presented at the Nawab's Dastarkhwa, he was told it was 'Tunde Ke Kabab'. 'Tunde' is a colloquial slang for a person with a hand disability.
For the original taste, head to Tunday Kababi in Lucknow, which was set up by Haji Murad Ali on the road that leads from Gol Darwaza Chowk to Akbari Gate, in the 17th century. In 1996, third-generation family members inaugurated another branch in the Aminabad area of Lucknow. Over the years a several outlets have mushroomed serving galouti kebabs all over Lucknow.
Have you tried Lucknowi galouti kebab yet? Share your experience in the comment section below.
Tags
Galouti kebab

Awadhi cuisine

Lucknow

kebabs

royal cuisine