Get a taste of India through Authenticook's local dining experiences
The start-up showcases India's diverse cuisines by offering foodies a chance to dine with locals in their homes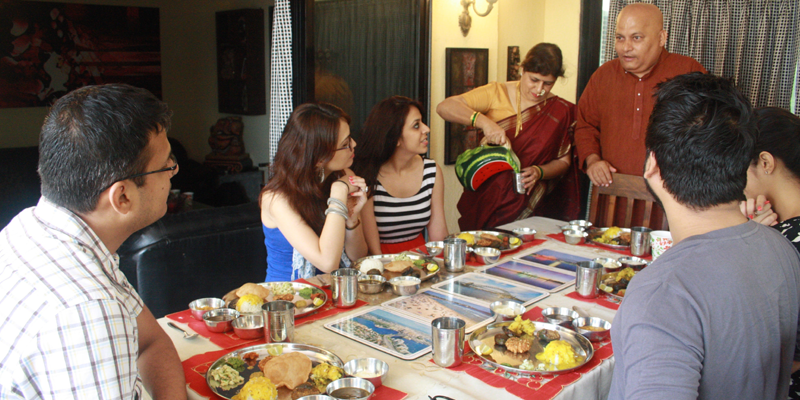 It is safe to say that India is a foodie's paradise. A plethora of dishes are available across the country and each one as good as the other. But no matter how great they are, most of these dishes don't feature on restaurant menus. Take Matschgand for instance, a traditional Kashmiri preparation which features mutton kheema balls in a curd-based gravy. Or Muga Molya Randhay, a sprouted moong curry that is a favourite in Saraswat Brahmin households. Seasonal vegetables are the stars of Manipur's Kangsoi stew, while pumpkin is one of the main ingredients in Bundelkhand's Newe ki Kheer.
This sheer diversity of regional food, which is unavailable in restaurants, was what spurred Ameya Deshpande, Priyanka Deshpande and Aneesh Dhairyawan to set up Authenticook. The start-up offers dining experiences at the homes of locals. Ameya explains, "We started Authenticook to provide people with an avenue to experience the diversity of India through food. We also wanted to provide a platform to home chefs to showcase their culinary skills and have an alternate source of income."
Showcasing India's diversity
The idea for Authenticook began way back in 2014 during a trip to Ladakh. "In Leh, we realised that there were very few avenues to try out the local food of the region. Our most memorable experiences were those where we had an opportunity to interact with a local and understand a lot more about the place," explains Ameya. "While you have people from across the world living together in cities, there are'nt many avenues to experience this diversity and meet like-minded people beyond one's social circle. That is when we thought of creating an avenue for people to get the opportunity to dine with a local to experience the true essence of a place."
After a lot of R&D on consumer behaviour and a pilot that ran for nearly a year, Authenticook was launched in September 2015. However, despite all the pre-launch preparations, the team still faces various challenges. Ameya explains, "One of the biggest challenges that we face is making people get out of their comfort zones. Going to a stranger's home or inviting a stranger home is not something that comes naturally to people. Also, ours is a model which has never been successfully tried anywhere in the world. That is where the viability of something so unique always comes into question."
Tasting success
Despite the initial hiccups, Authenticook has been going strong. In two years, it has tied up with over 110 home chefs who have hosted over 2500 diners. Authenticook is present in 10 cities — Mumbai, Pune, New Delhi, Gurgaon, Bengaluru, Jaipur, Udaipur, Jodhpur, Fort Kochi and Goa —and according to Ameya, this number is set to rise. It will soon enter Kolkata, Chennai and Hyderabad.
In June 2017, the start-up won a grant of Rs. 1.45 crore from Booking.com, the world's largest hotel aggregator. "Seven hundred companies had applied for the Booking.com Booster Programme from across 102 countries. We were one of only 10 companies to be shortlisted and invited to Amsterdam for the three week programme," says Ameya. "Authenticook was one of only two companies who received 100 percent of their grant needs." As a part of the programme, two mentors and employees of Booking.com will guide Authenticook in specific areas of expertise. Ameya says the grant will be used to scale up Authenticook's operations and it will go into marketing activities, technology enhancements and to build a team to expand to more locations in India.
Behind the scenes
Authenticook showcases 45 regional cuisines. Some examples include Bhagnari food from Balochistan, Garhwali dishes from Uttarakhand, Anglo Indian and Calcutta Jewish cuisines. The backgrounds of the home chefs are as varied as the cuisines themselves. "Our hosts come from diverse backgrounds: from home-makers to doctors, academicians to professionals," says Ameya. "One of the prime reasons our home chefs host people is the sense of instant gratification, whereby people enjoy their food and they can see it with their own eyes. They end up meeting some likeminded people whom they wouldn't have crossed paths with normally."

Ameya recollects an unforgettable incident, "We once met a host for a tasting session and she had tears in her eyes when we appreciated her food and efforts. She was thrilled at the thought of being associated with people from the younger generation and starting her entrepreneurial journey." The home chefs get to do more than just host diners. They also get to be a part of events in which Authenticook participates such as setting up food stalls in supermarkets, partnership meal experiences with restaurants, corporate catering, food events and participation in online/digital food shows.

Authenticook has tasted success in more ways than one and as Ameya aptly sums it up, "What is achieved at the end of it all is quite wonderful. You have people from different walks of life coming together and having a meal together. Many of these meals are prepared and available only in the homes of people." The start-up may be the first-of-its-kind food venture, but for its founders, it is clearly more than just a business.

Have you had a meal with any of Authenticook's host chefs? Let us know what your experience was like.