Print
Chef Prateek Sadhu gives Mumbaikars a taste of India's finest regional produce at Masque
The Mumbai-based fine dining restaurant has been showcasing India's local produce, living up to its philosophy of being indigenous. On the eve of Masque's first anniversary, Chef Prateek Sadhu discusses how the farm-to-fork establishment has been pushing the boundaries in more ways than one.
Seabuckthorn from Ladakh, fiddlehead fern foraged from the Himalayan belt, cacti flown down from Uttarakhand and olive oil produced in Rajasthan: India's lesser known produce that can provide stiff competition to imported ingredients, according to Chef Prateek Sadhu. He has been featuring these indigenous ingredients (and more) on the menu of Masque, his fine dining, farm-to-fork restaurant.
Masque has been creating ripples in Mumbai's culinary scene since it launched in September 2016 and with good reason. The restaurant exemplifies the spirit of botanical bistronomy, with seasonal menus which showcase regional produce. It has also done away with the à la carte concept and only has 8 and 12 course degustation menus. "We change our menus roughly every two weeks, though a few dishes may change day to day. Working with only local produce has been an utter eye-opener! It has led us down fascinating paths where we've found new ingredients and produce like nothing I've tasted in India before," says Chef Sadhu. "We found olive oil produced entirely in Rajasthan, which was a complete surprise; cheese from an Italian Sai Baba devotee in Andhra Pradesh; sea buckthorn, a tiny orange berry that packs a huge punch; hisalu and kafal berries and the darkest, juiciest plums from Uttarakhand. The list goes on, and keeps getting better," he adds.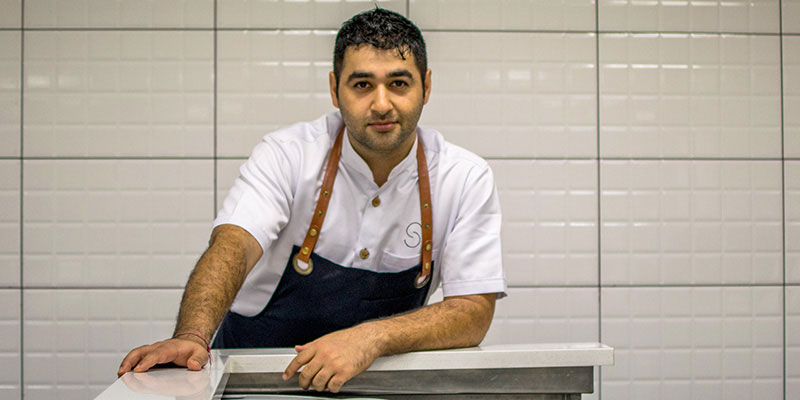 Meaningful connections
Considering that he gets to work with rare ingredients, doesn't sourcing prove to be a challenge? Not really, says Chef Sadhu. He attributes this to the R&D the team did for 18 months prior to the restaurant's launch. "Over time, we've developed a great understanding with the farmers and we now get calls when new produce comes in, or when unusual ingredients are flourishing in the region."
According to him, the connect with farmers is key to sourcing the best quality produce: "The farmers know their product best. It's very important to me that the person growing the food and the person cooking it are on the same wavelength, which is why we go directly to the source. That connect translates on the plate. There's a lot of work to do in the sphere of food justice and supply chains, and by working directly with farmers, we hope to give them their deserved due. This, I think, is what sets us apart," he says.
The DIY philosophy
Masque's chefs also travel to different areas sometimes to forage for berries or ferns. Chef Sadhu himself landed up at the northernmost boundaries of Ladakh to forage for sea buckthorn last year. The berry featured on the menu as one of his favourite dishes: a sea buckthorn ice lolly with a black pepper mousse centre. "It was a real throwback to the flavours of my childhood, with a Masque twist!"
The travel for produce has also led to some memorable trips and meals. Chef Sadhu explains, "My fondest memory was traveling to Turtuk, a tiny village along the Indo-Pak border. We returned after a day of foraging, cooked a simple meal of chicken with fresh wild mint, and ate it outdoors under an open sky. It was easily one of the best meals of my life!"
Turning one and more
Masque is celebrating its first anniversary this month and while it seems to have been a gamble, Chef Sadhu couldn't be happier about how the first year has gone. He explains, "It definitely felt like a risky move, but also like there was room in the market for a place like Masque. Using only local produce and serving only tasting menus might seem restricting to some, but I feel like it drives us to constantly push boundaries and explore new flavours, techniques and ingredients. And as risky as it seemed at the time, the response has definitely been reassuring!" He also says his favourite compliment was when a diner from New York compared Masque to Eleven Madison Park.
Sustainability seems to be a challenge, but Chef Sadhu is confident that if done correctly, it is the key to success. "The way we work, and in the tasting menu format, a small mistake can cost a lot. Logistics in India are difficult to manage at best; that is why we try to go directly to the source and develop these relationships with our farmers. Yes, it can be expensive, but the quality you reap from it is unmatched," he explains.
Learning from the best
This focus on quality and clean cooking is something Chef Sadhu picked up from his mentors. He has trained with some of the best chefs in the world including Thomas Keller of The French Laundry and Per Se fame and René Redzepi from Noma, which has been named the world's best restaurant multiple times.

According to Chef Sadhu, Thomas Keller has had the biggest influence on him, "His philosophy is one I really align with, and the kind of precision and skill I picked up in his kitchen was unmatched. Every technique - cutting, chopping, searing, whatever it is - is so precise and to the point; it's very clean cooking that I learnt there, without frills and fuss but exemplary flavour combinations." He adds, "My time there was a huge learning; you don't often find that everywhere you go, and I try to put them into practice in the Masque kitchen as well."

As the celebrations over Masque's first anniversary are set to begin, it's clear that its success over the past year has been a testament to the hard work put in by Chef Sadhu and his team.

Have you eaten at Masque? Which was your favourite dish there? Let us know in the comments below.