Which is the best vada pav of them all?
So many vada pav sellers, but which creation is the tastiest?
There's never a wrong time to enjoy a vada pav. Whether you're on the road, looking for a snack or your cravings are pulling you to the soft, delectable bite of the vada, a vada pav will bring nothing but pure bliss.
To bring the various vada pav sellers in Maharashtra under the spotlight, popular edible oils brand, Godrej Veg Oils kick-started the 'Vada Pav Cha Raja' initiative. The initiative, supported by Maharashtra Tourism, embarked on a journey to identify the best vadapav maker across 7 cities in Maharashtra, namely Mumbai, Thane, Aurangabad, Pune, Navi Mumbai, Nashik, and Satara. Customers across 250 outlets, voted for their favourite vada pav via a scanner placed at the outlet.
In the end, a winner was declared!
Sai Krupa Vada Pav in Andheri, Mumbai was crowned the 'Vada Pav Cha Raja', owing to their ardent fans who voted for them. Thane's Akkacha Vada Pav was a close second and was awarded the runner up position. The outlet owners were awarded at a ceremony in Mumbai, presided upon by dignitaries such as actor Bhau Kadam, two national award-winning chef Varun Inamdar, food writer and actor Kunal Vijayakar, Tourism Specialist from Directorate of Tourism, Government of Maharashtra Preeti Vanage Pawar along with Nitin Nabar, Executive Director and President, Godrej Industries Ltd.
20 other outlets were awarded honorary mentions and praised for their lip-smacking vada pavs.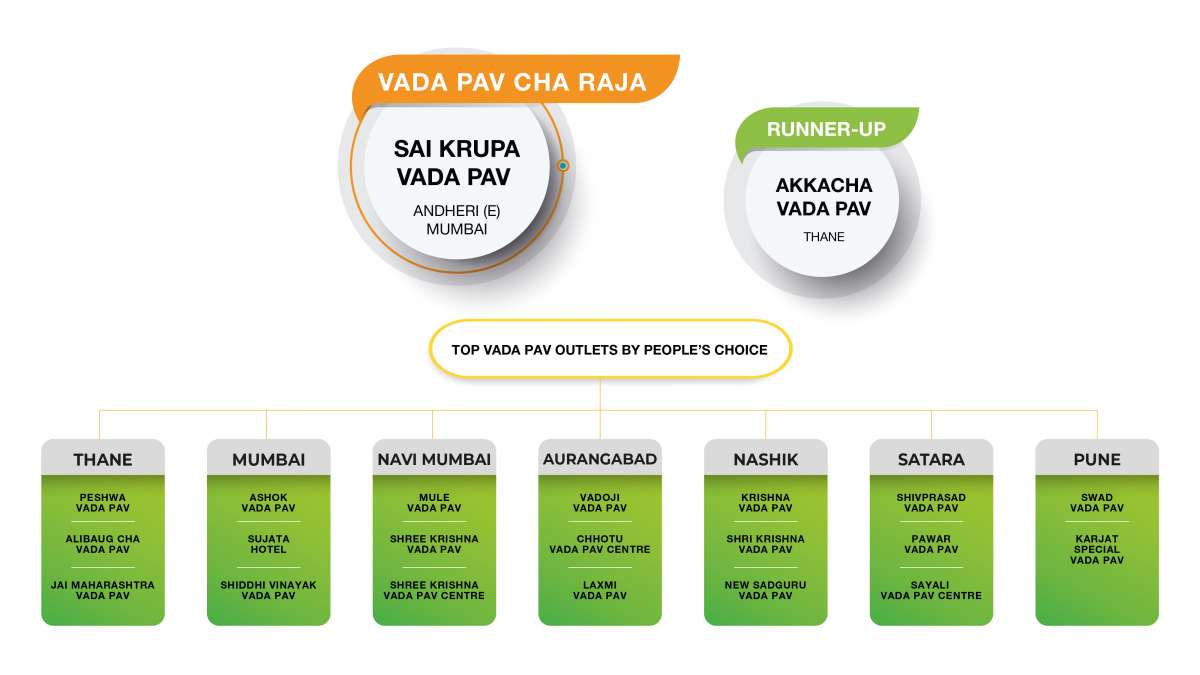 As part of the initiative, Godrej Veg Oils also distributed 5001 vada pavs across the community, made exclusively by Sai Krupa Vada Pav. Godrej Veg Oils decided to distribute the vada pavs to the dabbawallas of Mumbai and the zero-funds organisation Robin Hood Army, who feed the underprivileged in Mumbai. The dabbawallas work hard to ensure that the working professionals of Mumbai, who travel great distances to their workplaces are assured of home-cooked food on time, every day.
Godrej Veg Oils is very happy to have collaborated with vada pav makers from across Maharashtra, thereby bringing to the fore the great vada pav makers amidst us.
Godrej Veg Oils offers a versatile range of edible oils such as Sunflower Oil, Rice Bran Oil, Filtered Groundnut Oil, Refined Groundnut Oil, and Refined Soyabean Oil. The brand is known for its focus on taste, purity, quality and a diverse range of edible oils that are used regularly by households and food outlets across Maharashtra, Gujarat and Goa.
Tags
Regional recipe

Street food

Fried food

Varun Inamdar

Godrej Veg Oils