Godrej Protekt introduces hygiene range ideal for food and kitchen protection
To empower people to live fearlessly in the new normal, Godrej Protekt, India's trusted hygiene brand from Godrej Consumer Products Limited (GCPL), has launched a complete home hygiene range. Read to know more.
Photo by: @godrejprotekt
Some of its new products is an ideal choice for people who looking to maintain complete hygiene in their kitchens. The current times oblige kitchen areas, utensils, appliances, delivery packaging and foodstuffs need not only be cleaned, but also disinfected. Be it for veggies, fruits, delivery packs, utensils or kitchen, Godrej Protekt hygiene range provides protection against germs & bacteria.
Godrej Protekt Germ Protection Dish Wash
Not just our hands, but our kitchenware too needs to be clean and free from germs. And Godrej Protekt Germ Protection Dish Wash does just that. Added with the power of lime and neem, the dishwashing liquid with a refreshing fragrance helps remove the stubborn grease from your utensils and leaves them sparkling clean and free from germs. Available in 250 ml, 750 ml and 1 L pack priced at INR 45, 105 and 199 respectively.
Godrej Protekt Germ Protection Fruit and Veggie Wash
Rinsing fruits and vegetables in running water isn't enough. It is important to not just clean but also make these free from contaminants and germs. Godrej Protekt Germ Protection Fruit and Veggie Wash helps in doing just that. The transparent liquid has natural ingredients, retains the goodness of fresh produce and removes fungus, germs, bacteria, wax and dirt. Soak and hand rub the fresh vegetables and fruits in a solution made of one capful of the liquid and 1L of water. Rinse the soaked produce in running water two-three times for about 30 seconds. Priced at INR 125 for 250 ml and INR 249 for 500ml.
Godrej Protekt Disinfectant Surface Wipes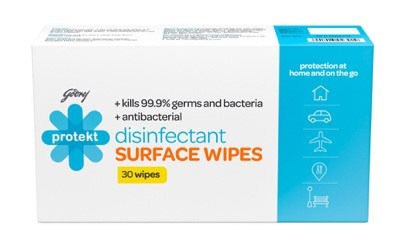 Godrej Protekt Disinfectant Surface Wipes work best for hard kitchen surfaces. Available in re-sealable packs for ease of use, they prevent kitchen surfaces from hosting illness-causing germs. These wipes are also travel-friendly and can be taken along while shopping for groceries in stores and malls. The anti-bacterial and re-sealable wipes kill 99.9 percent germs and bacteria. Priced at INR 140 for a pack of 30.
Godrej Protekt Multipurpose Disinfectant Cleaner
This can be used to effectively disinfect kitchen appliances and furniture. Dry the surface with a cloth before spraying. Spray the disinfectant and wait for 10 seconds before wiping off with a dry cloth. Available in a trigger-spray bottle with a refreshing aqua fragrance. Priced at INR 150 for 500 ml.
The products are available on all e-commerce shopping platforms, general and retail outlets.
Tags
Kitchen hygiene

Godrej Protekt

hand sanitizer

dish wash

germ protection

hygiene